Half term is just around the corner, and it can't come soon enough! Both my kids are exhausted after school and more often than not just want to stay indoors rather than take a trip to the beach or the park. However being indoors from 3 till 6 every day means finding things to entertain them with, and thankfully they're both into arts and crafts at the moment. This year we're working with Yazoo No Added Sugar drinks and they set us a challenge to come up with some fun half term craft activities. After a quick spin round Hobby Craft I put together a couple of things the kids loved doing, with an Autumnal theme! Here's what we got up to…
Autumn Collection Treasure Boxes
All kids love to pick up conkers, chestnuts and acorns right? Not to mention pine-cones, pretty leaves and the odd stone? Well wouldn't it be nice if they had somewhere to store all their tiny treasures? Not to mention keep them all in one place rather than being dotted about on shelves, in coat pockets and anywhere else they can think of to stash them! Athena chose an 'actual real life treasure chest' and Arlo picked an oval box with a lid. These are made of cardboard but so sturdy but not too heavy, and so easy to decorate however you choose!
What you need: a plain box (you could make one or recycle a box you have by covering it with brown wrapping paper to create a clear surface if it's got print on. Paint, paint brushes, glue, stickers, pens.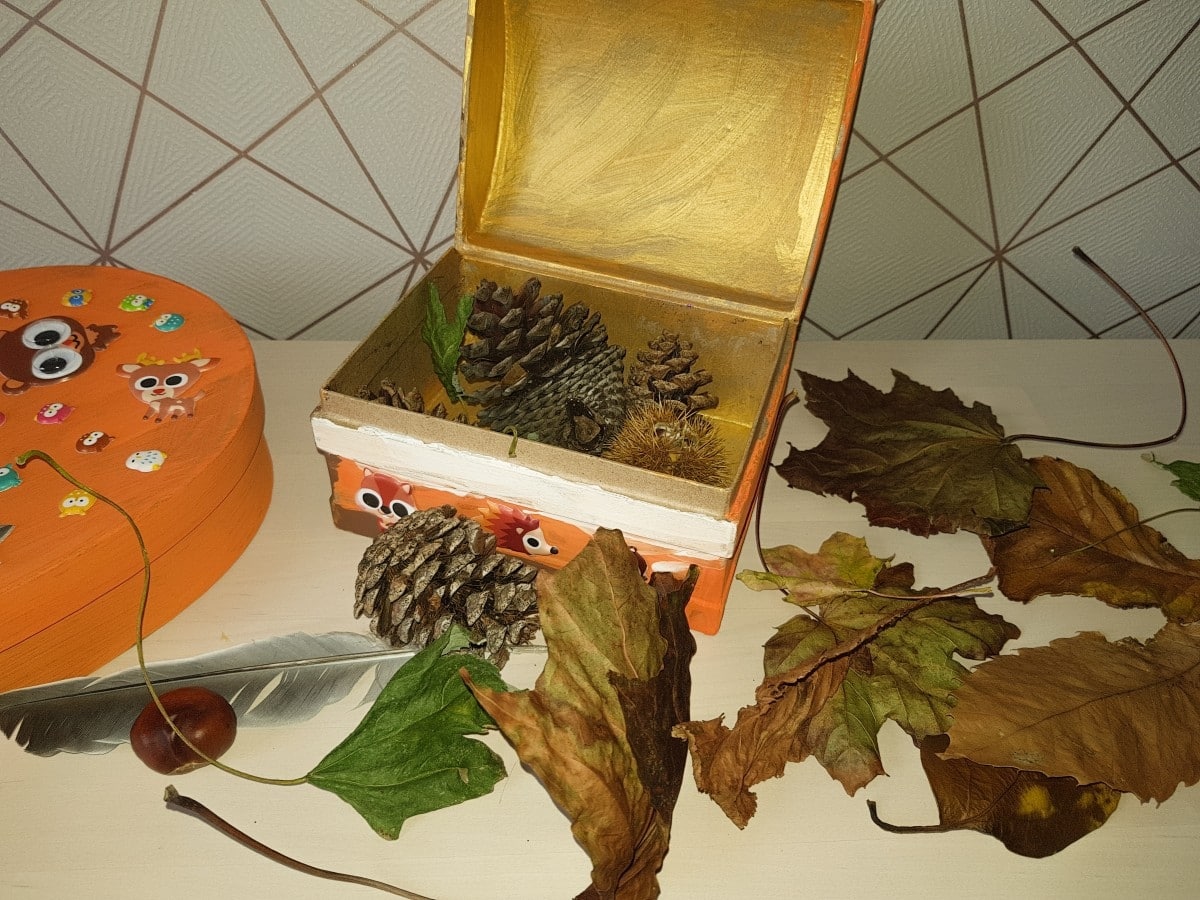 We used paint, stickers and metallic pens to decorate our boxes, outside and in! Then I sent the kids off round the house finding all the outdoorsy autumnal things they'd stashed over the last couple of weeks to put in their boxes! This also acted as Athena's half term home work too, as she one of the projects she could choose from was collecting and identifying leaves and things that grow on trees!
Halloween Decorations
Now this one was super easy, as Hobby Craft had these blank Halloween themed decorations ready to go already! If you're not near to one or they've sold out you could easily replicate these by using thick cardboard to cut out your shapes though.
What you need: wooden or card decorations, paint (don't forget the orange!) glitter, stickers, pens, paint brushes. If you made your own decorations you'll also need ribbon to hang them.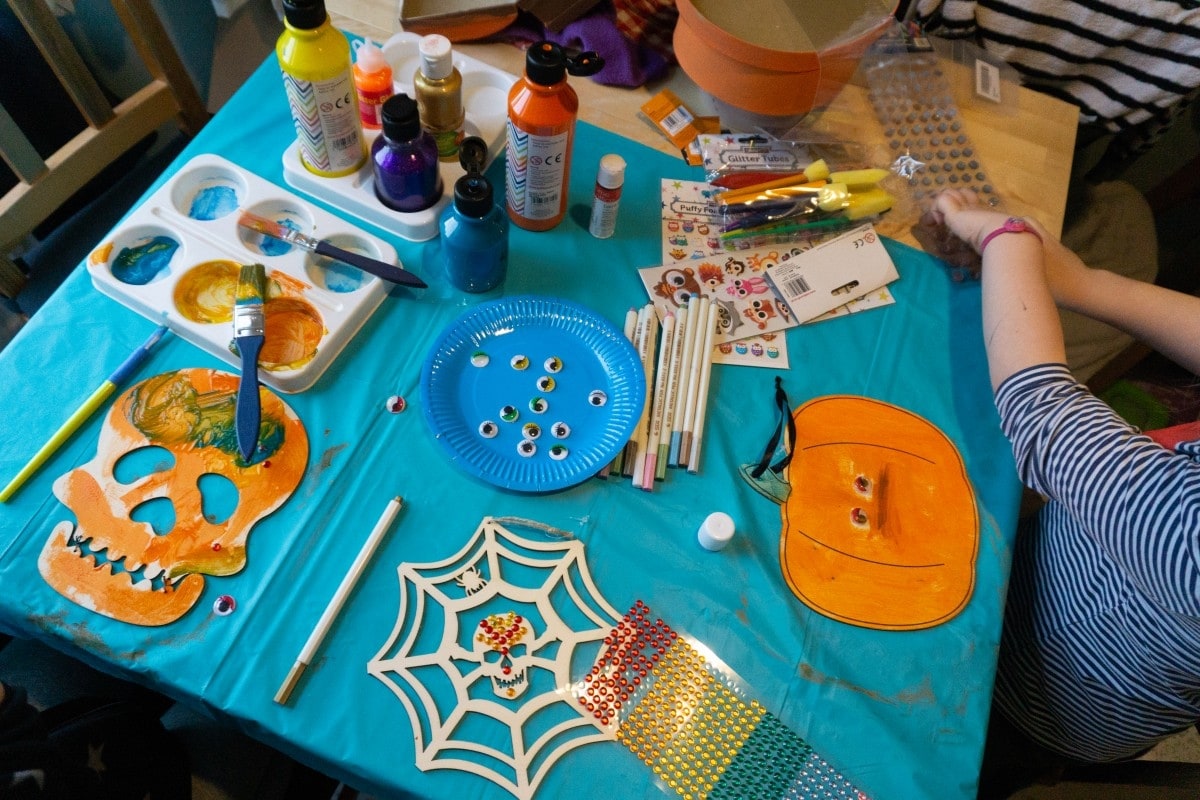 I got a selection of stickers, googly eyes, glitter, glue and pens out and just let the kids go wild! Athena picked a pumpkin and painted it a traditional orange, Once everything was dry we hung them up around the house as spooky decorations!
Crafts are always a sure fire way to keep the kids busy (and in the same place!) during long afternoons and half terms, they're relatively cheap to do once you've stocked up on the basics and most importantly they let your kids use their creativity and have fun! As you can see from our photos our crafting is definitely 'kid led' and abstract – but I think it's really important to let them do it their way and not make too much of a fuss about things being neat and realistic looking!
When you're planning your craft sessions don't forget the all important snacks and drinks too! We've been keeping ourselves hydrated with Yazoo No Added Sugar bottles and the kids can drink one of each of the three flavours if they really fancied it as with no added sugar or sweetener and all natural flavourings they're perfect for little ones. Plus sometimes as a treat I heat up the chocolate flavoured one, add a handful of mini marshmallows and treat the kids!