We love Drusillas, it's the perfect family day out and we spent the day there last Sunday – and despite the slightly miserable weather forecast it didn't rain all day and we got to do everything we wanted to! I'd definitely recommend going in Autumn, especially if you have kids that can be a bit overwhelmed by lots of crowds and noise. We arrived just after the park opened for the day at 10am and strolled around the Zoo part of the park first. The kids love looking for the animals in the Animal Spotter Books (which are free!) where they got to read a little bit about the animals before ticking them off with a stamp in their books. It always impresses me how clean the animal enclosures are at Drusillas, we spotted a lot of people working behind the scenes and even when they were busy cleaning they always gave us a wave and a smile!
The two sloths (my favourites!) were living up to their name and chilling out in one of the first areas of the Zoo, one did a long slow scratch and went back to sleep! Athena loves the monkeys, and we spent a lot of time watching them clean each other and swing about on their branches! We actually bought both kids a little cuddly monkey from the amazing gift shop stuffed full of all sorts of animals before we went home!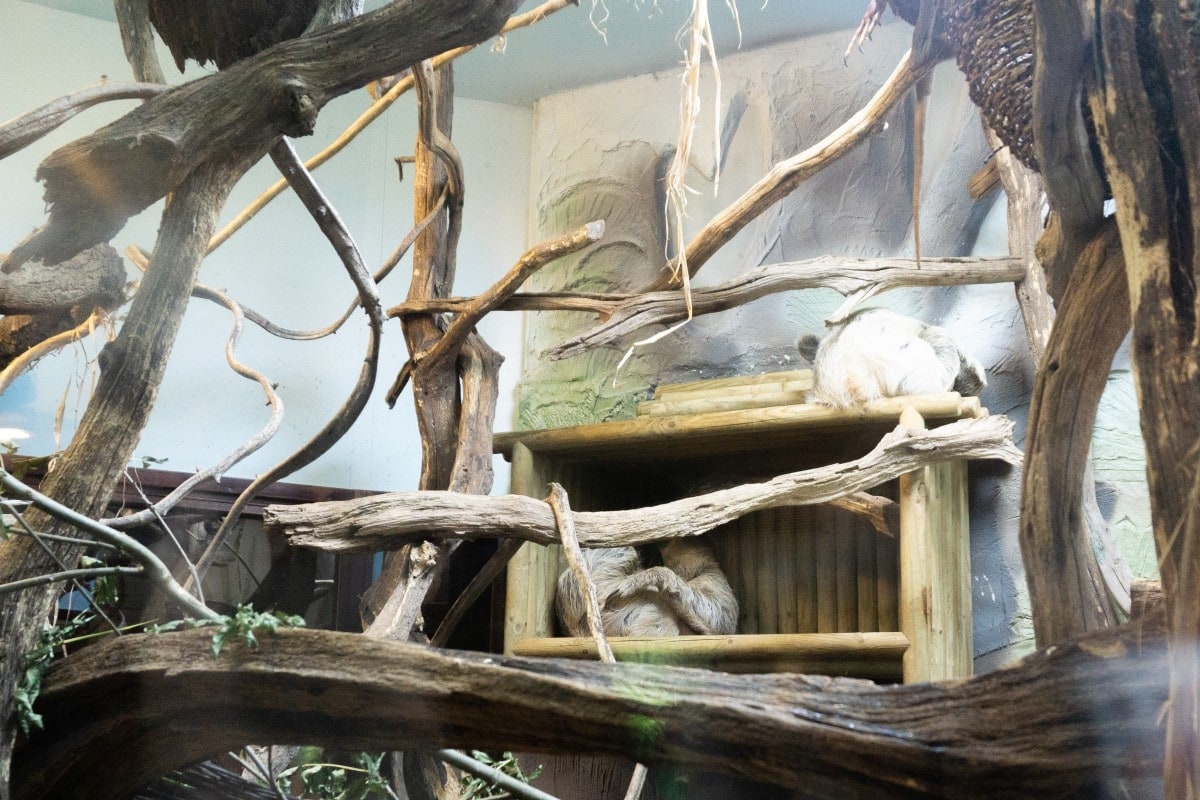 We also enjoyed doing some of the Zoolympics challenges, especially seeing how long we could hang for and loud we could be – Sam has quite an impressive roar it seems! I love features like this as it adds another level of interest to the visit and helps the kids learn so much more about the animals they're seeing.
We continued through the animal area learning as we went, and stopping to see the lurking crocodile (he's not real though!) and seeing if we could spot the red pandas snoozing in their tree. The Racoons were nice and inquisitive too!
We went through the Lory Landing walk-though exhibit for the first time, as Arlo wasn't too keen on our last visit (he's always happy to walk through the slightly pongy bat enclosure though – he loves that!) which is opposite the amazing Lemurland walk through area – we all love that one!
Lory Landing is where you can get up close and personal with the rainbow Lorikeets! They're native to Australia and are just beautiful to look at! You can buy small posts of nectar for a pound each and then watch as the birds hop onto your arms, hands and even your head sometimes for a little drink of the sweet stuff!  Arlo wasn't quite brave enough to hold his own pot but did get up close for a look as the rest of us did!
After our close and personal Lorikeet experience we washed our hands and headed off for lunch at the main restaurant called Explorer's Cafe. This is a buffet style restaurant serving family favourites, fish and chips, pasta, pizza, jacket potatoes etc, with a salad bar and starbucks coffee. The kids chose the picnic bags, which come well stocked with sandwiches, fruit, crisps and a treat plus a fruit juice and a mask – always a winner!  Sam and I had southern fried chicken and salad – tasty but not that hot, and Sam found some kitchen foil in his chicken. He let the girl operating the till know and she gave him a small discount off a piece of cake as an apology. I was impressed with the variety of the salad options on the help-yourself salad bar, and chocolate cake was the perfect after lunch treat!
There are lots of tables both inside and out at this restaurant, as well as the option of eating at the Oasis Cafe (located at the outdoor play area) and the Amazon Adventure cafe (in the soft play area) and the lovely doughnut shop, which we always visit for hot sugary donuts for our ride on the train – which is right next door!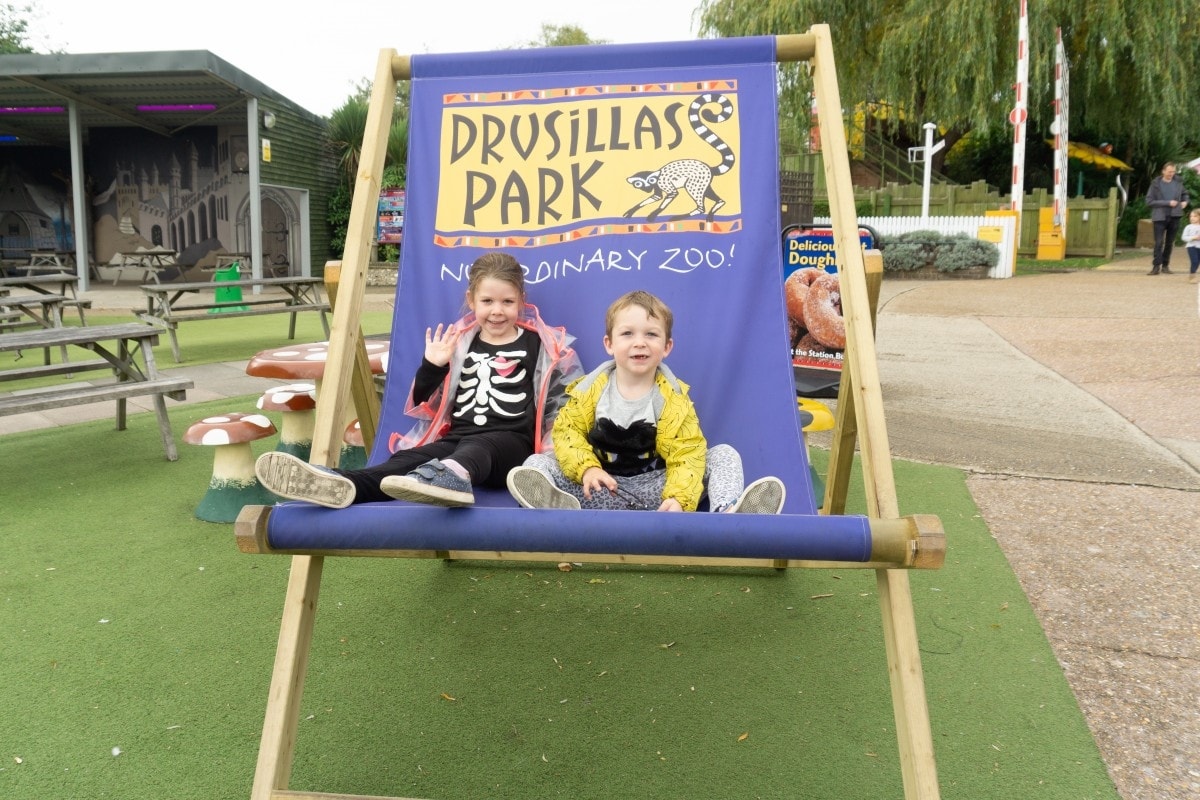 After we'd filled our bellies it was time for rides! As it was a quiet day at the park we were able to stay on some of the rides for a second (or even third!) which the kids absolutely loved, and it made them feel very special indeed! They're both tall enough to go on the Hopper and the Teacup rides on their own, and they loved the independence! I went on the car ride with Arlo – but let him do the driving!
Next we popped over to the Go Safari area, where we rode the Hippopotobus a few times (it always makes my belly flop but the kids LOVE it!) and then we tried to see who could go higher on the Flying Cheetas! Both these rides give you a really lovely view out over the park and the rolling hills surrounding you too!
It was time for Sam and I to have a rest then, whilst the kids carried hurtling at full speed around the Go Bananas Area (designed for kids under 6) though they did have a go on some of the things in the Go Wild play area for older kids too! There are lots of benches around for parents to chill whilst the kids get busy on the trampoline, zip wires, slides and everything else, plus the cafe right next door to grab a drink or snack! Once they're tired themselves out outside they declared they wanted to head into soft play! I've no idea where they got the energy but they carried on zooming around in there for another hour! There is an awesome part at the back where you can shoot foam balls around and they both had to tempted out of there with the promise of a cuddly toy on the way to the car!
We had the loveliest day, as we always do at Drusillas. It's the perfect size to do in one day without feeling like you've got to rush around everywhere are full speed. The queues are never very long even the peak of summer like they are at other similar, bigger attractions and you're never going to get lost! Well, apart from in the 'Edens Eye Maze', but that's meant to happen! Next week at Drusillas is Shriek Week, we went last year and loved it – so many spooky goings on all around the park, lots of interactive things and even the Gruffalo making an appearance on Wednesday!
Once half term is out of the way and you're think about the festive season then it looks like Drusillas does Christmas pretty well too, with lots of events and twinkling lights to get you in the festive spirit! Drusillas is about a 20 minute drive from Brighton, located on the A27. It is open all year round apart from 24th/25th/26th December and there is plenty to do undercover so still perfect for a rainy day visit. Also, lots of fun photo opportunities too!