Tea is an enormously popular drink around the world. I drink cups and cups per day, from breakfast tea to a variety of herbal teas! But if you count yourself as a tea lover, you might be surprised by some of the little known facts about the drink. Here are six things about probably didn't know about tea, and a kitchen essential you need if you want to enjoy the perfect cuppa! '
War made Britain a tea drinking nation
Tea was popularised in the UK due to the British East India Company, which held a monopoly on Chinese tea across the 18th century. This provided Britain was easy access to tea. However, the country would also had access to coffee through France and Spain – where coffee developed into a far more popular drink than tea.
However, Britain's war with the French and Spanish crowns meant that access to coffee was severely limited. It is only very recently that coffee has become a popular drink for the British.
The future of tea might not be as secure as you think
Yes, tea is an extremely popular drink. It is said to be the second most consumed drink in the world behind water. So it is shocking to learn that the future of tea production is not wholly secure. Tea production relies on the laborious task of picking the leaves, and many people in rural tea-producing areas are moving away to the cities to find work. This means that in the near future there could be a shortage of people willing to pick tea leaves.
Good packaging makes a massive difference to the taste
How do you store your tea bags? It might seem like a trivial point, but it really isn't when you realise how much it can affect the flavour if tea bags are left to get stale in the open air. Many tea drinkers make the mistake of opening the packet and simply leaving it open for weeks as the tea is slowly consumed. So it's a much better idea to choose a brand of tea bags with high quality packaging.
The Bag Broker is one of the companies at the forefront of modern packaging for tea, insisting on bags with re-sealable zip locks to prevent oxidisation of the tea leaves and valves in order to allow carbon dioxide to escape the packaging, ensuring the leaves retain their flavour and freshness for as long as possible. Try a brand of tea with quality packaging to see the difference it makes.
Milk wasn't initially added to tea for the flavour
You might think the idea of drinking tea without milk is completely disgusting (we won't get into the sugar vs. no sugar argument here) but you might be surprised to learn that milk wasn't initially added to tea to improve, or even change, the flavour. This is another fact that dates back to 18th century. Drinking tea was typically done by pouring the liquid from a pot into a delicate china cup. But the fine bone china would crack under the heat of boiling water, so milk was added to the mug first to cool it down. Cold water could have been added instead, but milk was found to have the additional benefit that it would stop the tea from staining the china.
A tea monopoly
It is amazing to learn that while tea is drunk all over the world, the vast majority of tea production is split between just five countries. China and India are the two largest producers, with Kenya, Sri Lanka and Vietnam following just behind. Together these five nations account for 75 per cent of the world's tea production.
You're probably brewing your tea at the wrong temperature
It may well be the case that no matter what kind of tea you drink, you simply pour bottle water from the kettle onto the bag and leave it to brew. However, while it is correctly to brew black tea (standard English breakfast tea) at the boiling point of 100 degrees, this is actually much too hot for many other types of tea. Oolong tea should be brewed with water at 95 degrees, white tea should be brewed at 80 degrees and for green tea the temperature should be even lower: 75 degrees. Getting the temperature right can make a big difference to the flavour!
So to get the perfect water temperature for your tea without having to faff about waiting for a kettle to boil, then cool before making your tea you need a VonShef Hot Water Dispenser in your life. Instant hot water at the press of a button, using just the right amount of water so you're not wasting water by boiling half a kettle when you only want to make one cup. You also don't need to fill it every time you use it like a regular kettle as it holds 2.2l of water in the tank.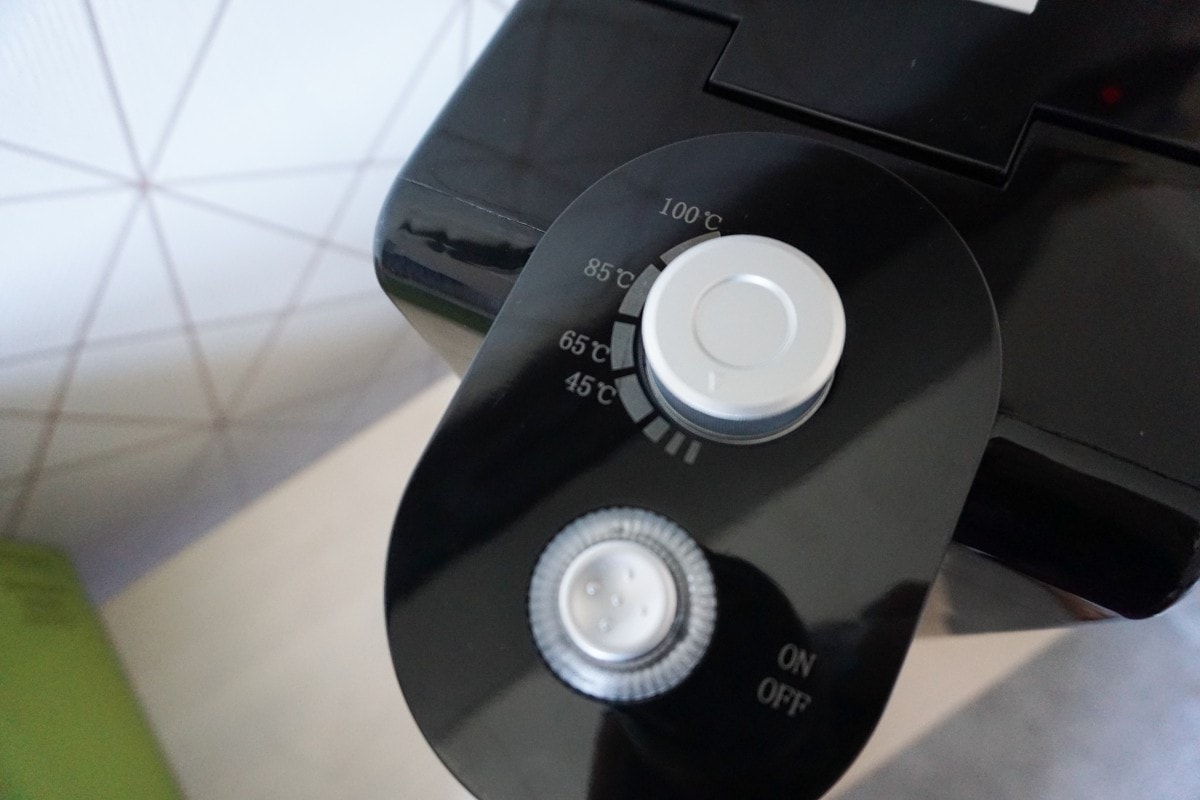 Using the dial on the top first select your water temperature, then place your cup (or teapot!) on the drip tray and press the button for instant water at just the right temperature. For me this is way better than a kettle, as I can make myself a hot drink any any time without having to wait for the kettle to boil. I used to start doing something else whilst I waited, then forget it had boiled and have to start all over again, wasting water and electricity in the process. It also means when I am making pasta or rice I have hot water on hand instantly, rather than waiting for it to boil on the hob or using the kettle. The tank can be removed to fill under the tap or you can flip the lid up and pour water in from a jug.
It's also a lot safer than a traditional kettle, think what would happen if you knocked over a just-boiled kettle? Steaming hot water everywhere! If you managed to knock this over (unlikely as it has suction feet!) all you'd get is cold water being spilt, much safer indeed especially if you have young kids at home. In fact it would be ideal for the elderly or people who struggle to lift a heavy kettle to refill or pour.
I don't think I'd ever go back to a traditional kettle now, this is a firm favourite in my kitchen!