The Big Feastival is a family-friendly, food orientated festival that is held each year on Alex James' farm. He used to be the bassist in Blur so knows his music but is now apparently an enthusiastic cheese maker and farmer, and has created and cultivated an amazing weekend! The Big Feastival is held on the August bank holiday in the Cotswolds, and this year we were invited along for the weekend, and I'm so glad we were because despite the rain and stormy skies we had an absolute blast! For ease I'm going to divide my review up into sections, so you can skip to the parts you're most interested in – though there really is something for everyone! You can also see the weekend in a video too, click here or watch it at the end of the post.
The Food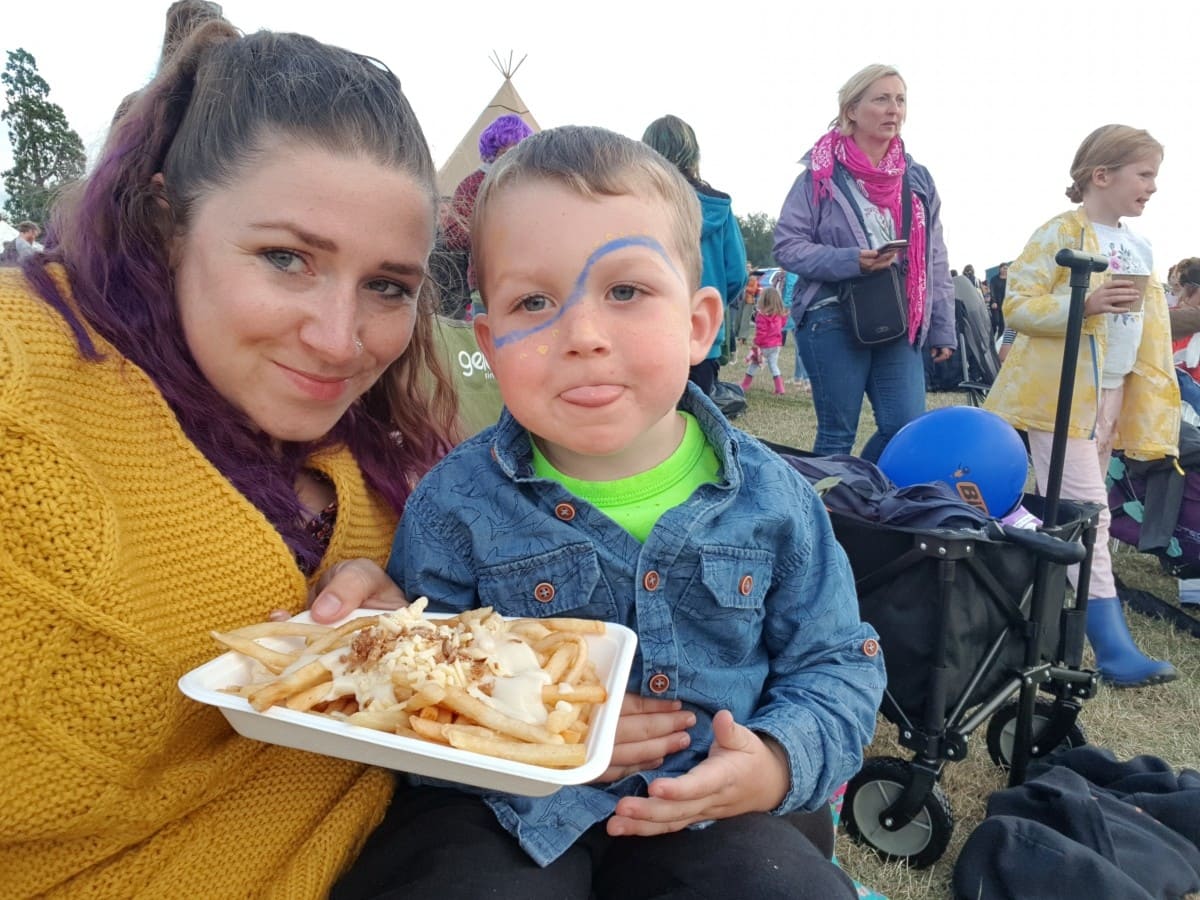 Where do I even start? You know how at most festivals there is one dedicated area with a few food trucks in, maybe a gourmet pie van if you're really lucky? Not here. Any direction you look in you'll see such a variety of food it's actually a bit overwhelming. Once we realised there were defined areas it became a bit easier to choose: Street Food Alley, Picnic Patch, Family Dining Room and the Pop Up Restaurants to name but a few. We only managed to touch on a small percentage of the options over the three days and our favourites were:
Bangwok – amazing Pad Thai Noodles and lots of banter, Anna Maes Mac N Cheese – the cheesiest pasta you've ever seen, Pop Dogs – a hit with every single one of us, DJ BBQ – smoked in front of you and perfectly tender – plus awesome chips! Los Churros Amigos – so moreish we went back for seconds!
As well as all the food stands to satisfy any craving, The Big Feastival has so much more for foodies. We had a couple of strolls around the Food Hub during the weekend, and signed up to get a Riverfood Veg box subscription and signed up to Gousto recipe boxes too, both had show offers on to get discounts and extras, along with similar companies too. If you're a budding chef then you could watch top chefs cooking live on stage – including Marco Pierre White, Gizzi Erskine & Raymond Blanc. For a more hands on approach there were interactive experiences at the Neff Cookery School, with half hour sessions running through the weekend. You did need to book up for these in advance though, with registration at 11, 2pm & 4pm. These sessions were FREE and attendees must be over 12. For the more advanced there was a chance to hone your skills at 'The Skillery' which offered sessions on Knife skills, pastry, meringues and more. You could also join in a table session, which were often with top chefs and had live podcast recordings happening too.
Basically it is a foodie delight, and even without the music there was enough to keep you busy (and full!) all weekend – we didn't even bother with our camping stove as we knew we'd never use it with everything on offer!
The Music
Most of the music happened in one of four places;
The Main Stage – I feel this could have been called something slightly more original, but it housed some BIG names over the weekend. The kid's favourites were of course Justin Fletcher (aka Mr Tumble – and my two STILL haven't clocked that they are the same person!) His performance was packed with toddlers on shoulders and parents joining in too, and was a blast! After him on Saturday was Duke, who I'd never heard of but have been watching on YouTube since – they are AMAZING – they're beat boxers and SO talented, no looping or pre-recorded anything. Friday nights headliner was Basement Jaxx, sadly we were back in our tent by then (tired kids!) but we could still hear all the classics booming around the campsite. Professor Green, Becky Hill & Artful Dodger also played on the Friday. Saturday was Craig David, Clean Bandit (amazing) and Jaguar Skills who played SO many bangers I think the kids were a bit embarrassed by me and Sam belting out the words to almost everything! Sundays headliner was Paloma Faith, Mel C played early in the afternoon and first on stage on Sunday was Andy and the Oddsocks (another kids TV presenter!) I felt like there was the perfect mix of genres and styles, and something for all ages too.
The Udder Stage – which included some BBC Introducing artists (we caught Joe Hicks who was great) and had a silent disco each evening, as well as Mel C's Mix tape and a 'Big Feastival's got Talent' competition.
The Treehouse Stage – which was more about action than music – with yoga sessions, farm fit sessions, which the kids loved – playing with giant tyres is apparently the best thing ever! as well as the Hula fit & the Big Feastival Choir
The Bandstand – with some of the main stage artists appearing here in more intimate performances, we also spotted DJ BBQ doing a DJ set and there was a Baby Loves Disco session on Friday too! Oh, and 'Dizney Rascal' but we missed that!
The Culture
I managed to catch Dolly Alderton chatting about her book (which I read last month) and other things. I love her podcast too, so it was great to see her in person (even if someone asked the question I was going to before me!) She was in The Times Hub, which was very civilised, with comfy sofas and a little bar. There was also a foodie instagram session that I missed with Frankie Unsworth.
In 'The Village Hall' there was a huge variety of things going on, from Morris Dancers to eco talks, family quizzes and parent panels with people like Mother Pukka and Hurrah for Gin. The Woodland Crafts area had pre-bookable sessions in clay work, willow headbands and fairy doors amongst other things as well as fire lighting and jewellery making.
For the kids
The majority of the kid-specific things happened in the Little Dudes Den area, which is actually a pretty big part of one of the fields. Firstly there is a HUGE tower of hay bales to clamber about on – which alone would have kept Athena and Arlo happy for hours on end! Apart from that though there was The Big Top, with character appearances (we met the Gruffalo but missed Peppa Pig & Paddington) as well as percussion workshops and storytelling in the evenings before bedtime.
There was also The Makery for crafts, circus skills, theatre skills sessions with the Royal Shakespeare Company and the Hasbro area – where we met Twilight Sparkle, who is a My Little Pony for the uninitiated!) and played with Playdoh for yonks (Sam enjoyed it as much as the kids, and we were given a pot each too – but I think a lot of that got smushed into our tent!) Along with a 'real life transformer' (actually a guy dressed up but Arlo didn't realise!) this area was fun for the whole family!
For fussy eaters there was the Family Dining Room with plainer foods and well known baby-friendly foods, and a whole host of stalls selling things that kids go crazy over! Outside the Little Dudes Den there was a small petting farm, Maypole dancing, and the choice of oodles of funfair rides! Turns out Arlo is a bit of a thrillseeker and loved the craziness of the Waltzers, though Athena preferred the rather sedate tea cups! We had a Girls vs Boys Dodgems match which was pretty good fun! Along with all of this there were roving performers cropping up at various points
Campsite
There are a few different options for camping, we were in a general camping field, and although tents were packed together there were plenty of loos (split into men and women) and showers (though only at one end of the campsite, the opposite end to where we managed to find a space to pitch our tent!) I can't comment on how clean the showers were as we baby-wiped and dry-shampooed it as we were only staying 2 nights. There was a friendly security guard at the entrance to each campsite to stop non campers getting in. You could also book a guaranteed-pitch, a pre-pitched tent or even a yurt (which I must say is pretty appealing – all you need to take is clothes!)
The car park was pretty close to our campsite (Lemon) but there were others that were further away. We had a trolley to lug our stuff in but you could hire them too. Cooking equipment was allowed on the site, though we didn't bother taking it as there was a little breakfast/hot drinks stand for me to get a cuppa from first thing! We arrived around midday, the campsite opened at 9am and was pretty packed by the time we arrived. We ended up in the quiet area of the lemon field, which was farthest end from the festival entrance.
Facilities
Plenty of portable toilet areas are dotted about and easy to spot, though at times they were out of paper or a bit grubby – this was mainly the loos closest to the Main Stage which saw more foot traffic. I just remembered to take a packet of tissues whenever we went just in case. Toilets did have hand sanitiser in though which was nice! The loos at the campsite had a separate hand wash area with posh soap, good for teeth brushing too.
There were water points dotted about so filling up our water bottles was never a problem
There was an 'Up all Night' tent for parents with little kids that need to heat food, change bums or just sit down for 5 minutes.
There were clearly marked paths through the campsite and overhead lighting so even when it was dark we could find our way back to the tent
There were lockers and pay as you go phone charge points, as well as ATMs
Lost children & first aid tent, plus we were given wristbands to write our phone numbers on for the kids as soon as we arrived, in case we did lose them!
What we really loved
The variety of entertainment & food
The onsite camping shop (convenient when someone (me!) forgot to pack the blow up mattress and camping chairs!)
The random and unadvertised Red Arrows fly past
Getting a free copy of The Times each morning, delivered in a pile about ten feet from our tent! Much needed when the kids wake up early full of energy but the festival gates don't open till ten – I read and pretending to listen to them playing!
The atmosphere. We didn't spot any raucous behaviour, everyone was friendly, people stopped to chat others, asking where food was from and everyone was aware of all the kids running around (not just ours!) and careful not to knock them over. In turn, parents with kids in wagons or buggies were careful not to barge into others as they were walking about dragging sleeping kids.
What could be Improved
Ideally toilets at both ends of the campsite – a 5 minute walk with a desperate toddler isn't fun
Clearly marked and separated recycling bins around the festival site (there were recycling areas in the campsite though)
We paid £7 for a festival program on a lanyard – which in my mind was necessary as we wanted to make sure we didn't miss anything we really wanted to see, and it had a map showing loos etc. It's also a great souvenir but I really think you should get one included in the ticket price, as you can't make the most of the festival without it really!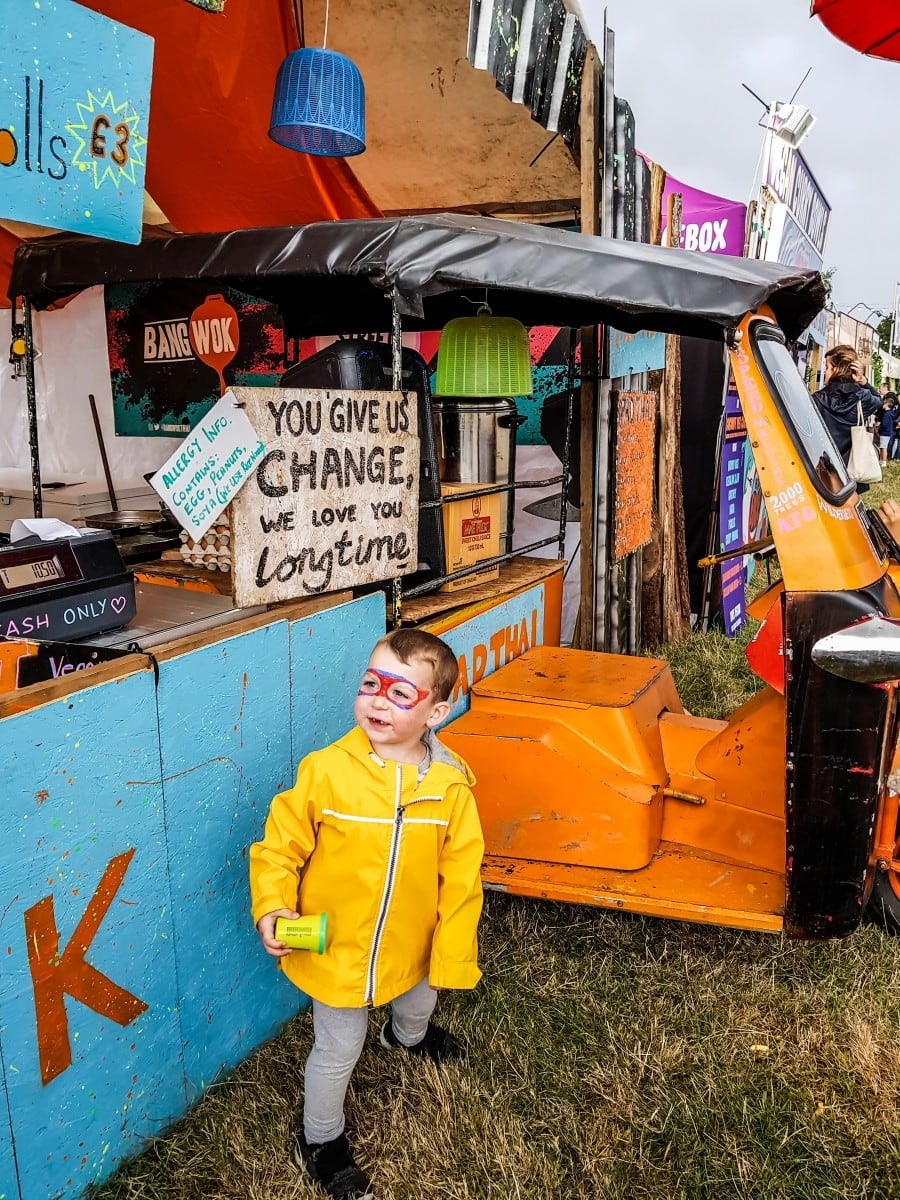 To keep updated with everything Big Feastival keep an eye on the Facebook Page and sign up to their newsletter online to be the first to know when next years tickets are released.