Another 'local loves' post for today, this one is from Jessica who lives in Wolverhampton, she's on maternity leave with her first baby and has shared her favourite things to do in this post…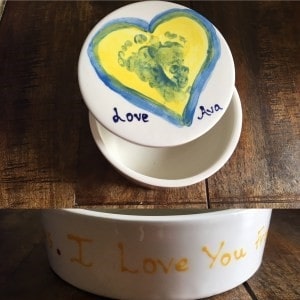 Living near a city centre there are always lots of things to do. Now I am a mommy and on maternity leave. I am always looking for new and exciting things to do with my daughter. Especially things that don't cost the earth to do. Finding new things to do can be so costly .where possible I try to find things to do that are cheap but also fun.
The first place we like to go to is Codsall Hive. This is a craft centre for both adults and children. It's always my place to go to when the weather is rubbish. You can do such a wide range of things from painting to clay modelling. We have also been many a times to make special presents for family and friends. It's great to have a place where I can take Ava that is mainly orientated towards children. Meaning if she makes a mess or has a screaming match, It really doesn't matter. Along with great craft activities they do really yummy food. From sandwiches to cakes and also do great little meals for children. The great thing I love about Codsall hive is that you can spend as little or as much as you would like to. You don't have to pay to go you just pay for what you do.
Our second favourite place to go to is Bantcok House. This is a fully restored Edwardian house surrounded by 43 acres of park land and beautiful gardens. It also has a fab park that the children can explore. You could literally spend all day there going around the beautiful house and its gardens .Then having lunch at the little coffee shop. With it being situated on 43 acres of land it's great to have a picnic if we ever have any sunshine. Throughout the year different events are held in both the grounds and the house and are normally free of charge. The parking is also free of charge making it a great cheap day out for the whole family.
The last place we visit a lot is Bridgnorth. It's a beautiful village on the river with endless of things to do. There are a number of parks for children to explore within a short walk to the river. Where you can walk along and feed the ducks. We do this quite a lot but they are hungry little things so we have to make sure little fingers are in the pushchair safe. We also like to go to the ice-cream shop and sit and have an ice-cream on the river. From low town to high town Bridgnorth it is a bit of a hill so if walking up a hill isn't for you. You can take the Cliff railway which is England's oldest and steepest inland electric funicular railway. Once up in high town there are many restaurants to eat at and lots of shops to explore. You could really spend a whole day here and if the weather is good it's a fab day out.
Jessica blogs at www.beautiesandthebibs.co.uk, she's a fairly new blogger but her blog (And her daughter!) are both gorgeous. She writes about being a first time mum to her new years day baby! She can be found on Twitter, Facebook & Instagram:. Thank you for offering to guest post for me!