If you have kids in primary school, or younger then you'll probably be very familiar with the PJ Masks! It's a kids cartoon featuring three 6-year-olds, Amaya, Connor, and Greg/ They are neighbours and friends who go to school together. But at night then turn into Catboy, Owlette and Gekko, and create a little crime fighting team called the PJ Masks, with superhero powers (which is why my two love this so much I think!) Each episode follows a little story where they solve problems, fight crime and have fun, but there's always a moral lesson to be learnt! The latest episodes are all based round a Super Moon Adventure, and my two little PJ Masks fans were lucky enough to be sent the new Mission Control HQ playset, the Super Moon Adventure HQ Rocket, some Speed Booster vehicles and lots more. Not only that but we got to throw a PJ Masks Party too!
First up is the amazing Super Moon Adventure HQ Rocket – which comes with a Gekko figure and space rover vehicle. The Space Rover vehicle cleverly sits inside the secret door, so it can be hidden from view whilst the rocket is flying about. With lots of flashing lights on the wings and a cycle of different sounds, the PJ Masks trio can solve all sorts of space crime, with space for all three in the cockpit! There is a well placed and well disguised handle on the top so your kids can fly the rocket around the room, and flip down legs that it can balance on (though these do come off if bent the wrong way- though clip back on easily enough).
Next is the absolutely amazing Mission Control HQ Playset, which my kids have been obsessed with since they pulled it out of the box. I'm actually pretty impressed with it myself- it's so clever in the way it all works and fits together, I find myself continuously amazed at how much fun toy-designers must have at work! With multiple levels and lots of moving parts this is ideal for your kids to act out their favourite episode plots or create their own! There is a Romeo & Catboy figure included with this set, but you can also purchase a huge character set giving you all the characters featured in the program to play with- including my favourite bad guys the three purple Ninjalinos – who stack on top of each other! The figures come with little accessories too, which really helps the kids get into character when playing.
On one side of the Mission Control HQ you've got a corkscrew pole that will hurtle figures down to the ground at the push of a button, and on the other side there is a trap door so you can capture the bad guys and send them plummeting into the cage to keep them from causing any more ruckus! The top section, flips up to reveal Owlette's area, with a dart machine for firing at enemies! The lowest level is Geckos hideout, and and a door flips open to reveal his area, with Cat Boy in the middle, where you can set off sounds at the push of a button! The top of the HQ set folds down so it takes up less room to store, and you can also keep the figurines in the playset when not in use to keep everything together.
We had great fun racing the vehicles along the race track, and these are small enough to chuck in a backpack and take with you on car journeys and to use as entertainment when waiting for meals at restaurants etc. The Space rovers come with a figurine and interactive accessory too – perfect to use in conjunction with the HQ sets!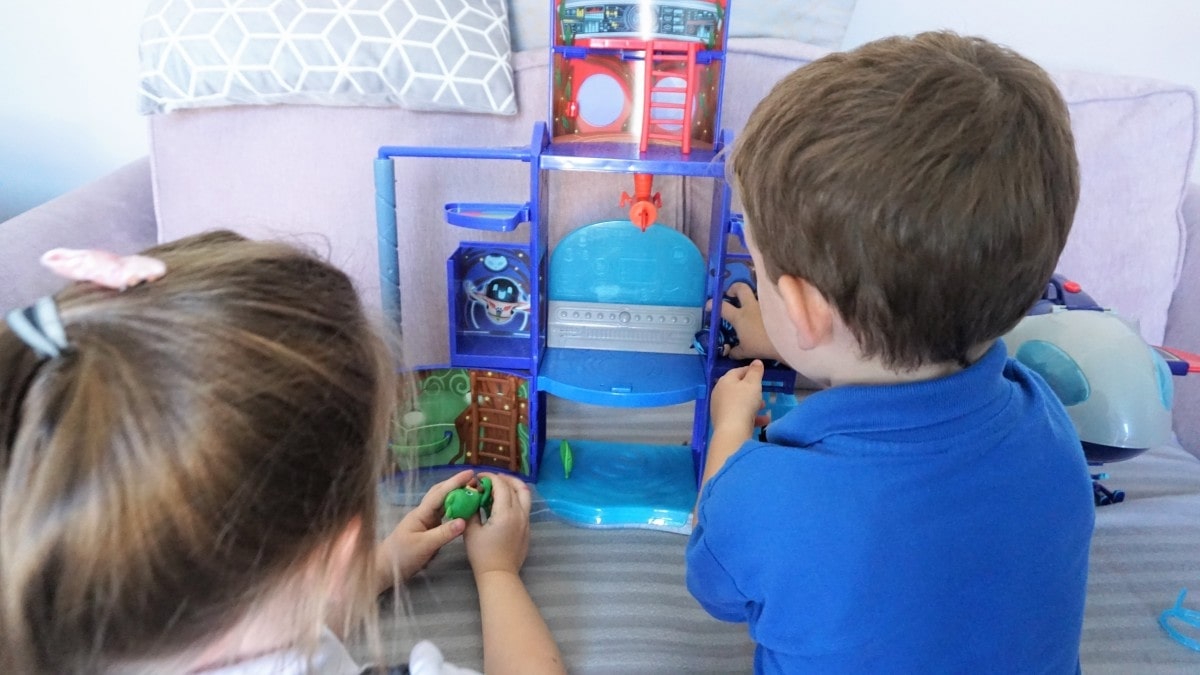 The PJ Masks toy collection is available to buy now in Smyths, Amazon and Very. I think anything from the range would go down really from 'Father Christmas' this year, the vehicles would make great stocking presents and I can guarantee either of the HQs would mean endless hours of entertainment! Join UK Mums Tv on twitter between 1-3pm on the 17th October for the #PJMasksToys twitter party, where we'll be chatting about the toys, throwing a PJ Masks party and giving away lots of amazing toys too!!