Arlo loves trains, still calling them 'choochoos' rather than trains, although he can say train of course! We were lucky enough to go and see the premier of the latest Thomas film 'The Great Race' last year, went to Thomas Land at Drayton Manor on little holiday and have got lots of Thomas  & Friends related toys and books too of course.

Now he's over the moon to have his own Thomas projector nightlight! This toy is actually two in one, acting as a projector during the night, and a train with its own shed during the day. I'll be honest and say that Arlo doesn't actually need any help getting up in the mornings as he's an naturally early riser (sadly for me!) but you never know, there may come a day when he decides to start sleeping in and we can use the wake up function (including a rooster!) to encourage him out of bed! For now though at night time I can have my lumie light back on my bedside table which is what Arlo was using as a nightlight before; now he has a little light display of stars above him!
In the day time Thomas can be rolled in and out of his little Tidmouth shed for lots of fun, with familiar tunes and noises too. Switching between the two functions is easy, there is a switch on the top of the shed to do so, you'll need 3 AAA batteries though these come already included. It's not a gigantic toy either so will easily fit on a bedside table. Arlo likes to clutch things when he is asleep, more often than not a water bottle but sometimes a train or a car, so during the night Thomas actually spends more time in the bed than in his shed!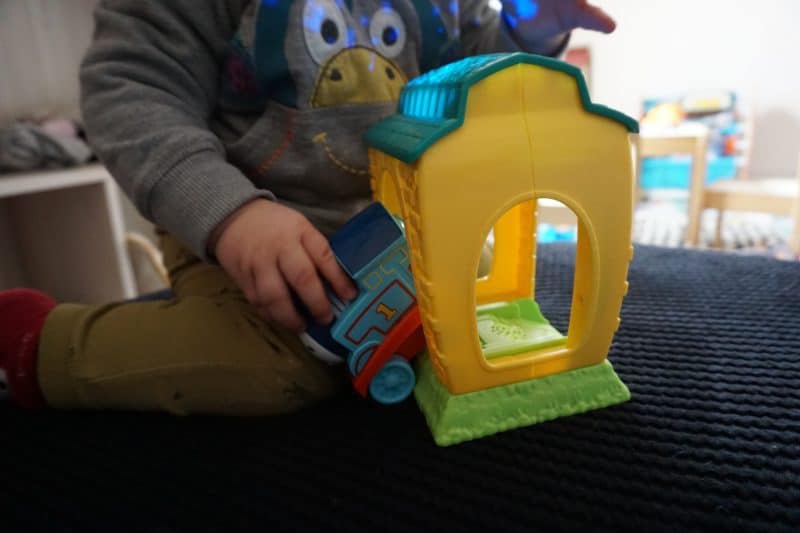 There is no volume control like with many Fisher Price toys, though the noises aren't obnoxiously loud. The night mode (lights and soothing sounds) lasts for about ten minutes and then stops. Sadly it takes Arlo an absolute age to fall asleep so I trigger it a few times and then just let him hold Thomas to drift off to sleep with.
Fisher-Price® My First Thomas & Friends™ Day to Night Projector is available from all good toy shops and retails at around £22.99 and is suitable from 18 months old. You can view the full range of Thomas & Friends toys, books and lots more at www.thomasandfriends.com.
We were sent this toy to review in exchange for an honest opinion. All words and opinions are my own.