Ad- Press trip.
On Sunday we arrived home from a wonderful stay on the Island of Jersey. It really felt like we'd been in another country for a few days, despite being able to use our own car, not bother with changing currency and driving on the left side of the road. Jersey is one of the Channel Islands and despite being very much part of the United Kingdom they're just off the coast of France. We were invited to experience Jersey with Condor Ferries, and were given complimentary access to many of the attractions on the Island too. This post focuses on what there is to do for families on Jersey, and  I have written about our Condor Ferries experience and a hotel review ! I also have a discount code for anyone wishing to book a trip at the end of this post.
We arrived via ferry into St Helier port, departing from Poole. The trip each way took around 5 hours and we got to Jersey at around half past twelve in the afternoon, were at a pub having lunch by 1.15 and on the beach by 2pm! We bought a walking map of the island on the ferry, I spotted a beach with steps down to it and a pub at the top which sounded nice, and off we drove to Portelet! There were rather a lot of steps down to the beach though!
Jersey is not a large island at all, wherever you are you can drive to a beach in ten minutes. The beaches are absolutely stunning, and when the tide is out the island practically doubles in size apparently! What surprised me the most is that the beaches were never busy – admittedly it wasn't scorching hot but I'm used to seeing people on our shingle beach at home whatever the weather! You could of course spend all your time visiting different beaches but there is a lot more to do on the island too. Here are the places we visited…
Mont Orgueil Castle
We love castles and this one was certainly not disappointing! It has it all: twisting stair cases, lots of dark and dingy rooms to explore, amazing views, flag poles, guns, statues and even Hawk demonstrations. Add a magnificent view out to sea and overlooking Gorey harbour and it's pretty much up there with at the top of our favourite castles list.
There are a lot of steps up from the pier entrance but the views are more than worth it. We watched a short video of the castles history and then went to explore. Although our kids love exploring all the rooms and stairways with us there was a lovely wooden knight themed area for them to let off steam as well as a room with lots of dressing up too. Look out for the lizards! website
La Hogue Bie
One of the ten oldest buildings IN THE WORLD! As soon as I read that I wanted to go, but thought it might not be that exciting for the kids. I was so wrong and they loved it too – because there is more than just the passage grave which is over 6,000 year old! Just think about that for a bit…  On top of the mound above the dolmen is a medieval chapel as well as a nearby underground exhibit of slavery on Jersey during the war, when it was occupied by the nazis, housed in a command bunker.
The kids (and Sam!) absolutely loved the neolithic Long House, which was a replica that had recently been built using mostly traditional tools, like flint axes! There was a fire burning inside and some lovely volunteers to explain how they made it and show us examples of starting fires, making fences and weaving wool – the kids loved getting some hands on experience! website
Jersey War Tunnels
Located in old mining tunnels that were converted into a hospital during the second world war this was an incredible experience – although the kids got a little bored at points, which is fair enough as at 4 and 5 they're too young for us to really explain the war to them. They did love the rooms set up to be like an 'olden day house' as Athena called it! I hadn't even thought about what war would have been like for the channel islanders, far closer of course to France than the UK, and impossible for the UK armed forces to protect. The Nazis took over and island life changed dramatically, it was amazing to learn all about it and the underground tunnels definitely added to the atmosphere. This is a must-see for any visitor to Jersey.  website
I was so engrossed in reading and listening I hardly took any photos!
Tamba Park
An adventure park for kids, with indoor jungle themed soft play, an outdoor play area, small boating lake with pedalos and a few other activities too. Our kids loved the animatronic dinosaur  walk through, and there were lots of facts and information about the dinosaurs too, some of which I didn't know! We ate lunch here too, it was really reasonably priced with quick service but not a huge selection.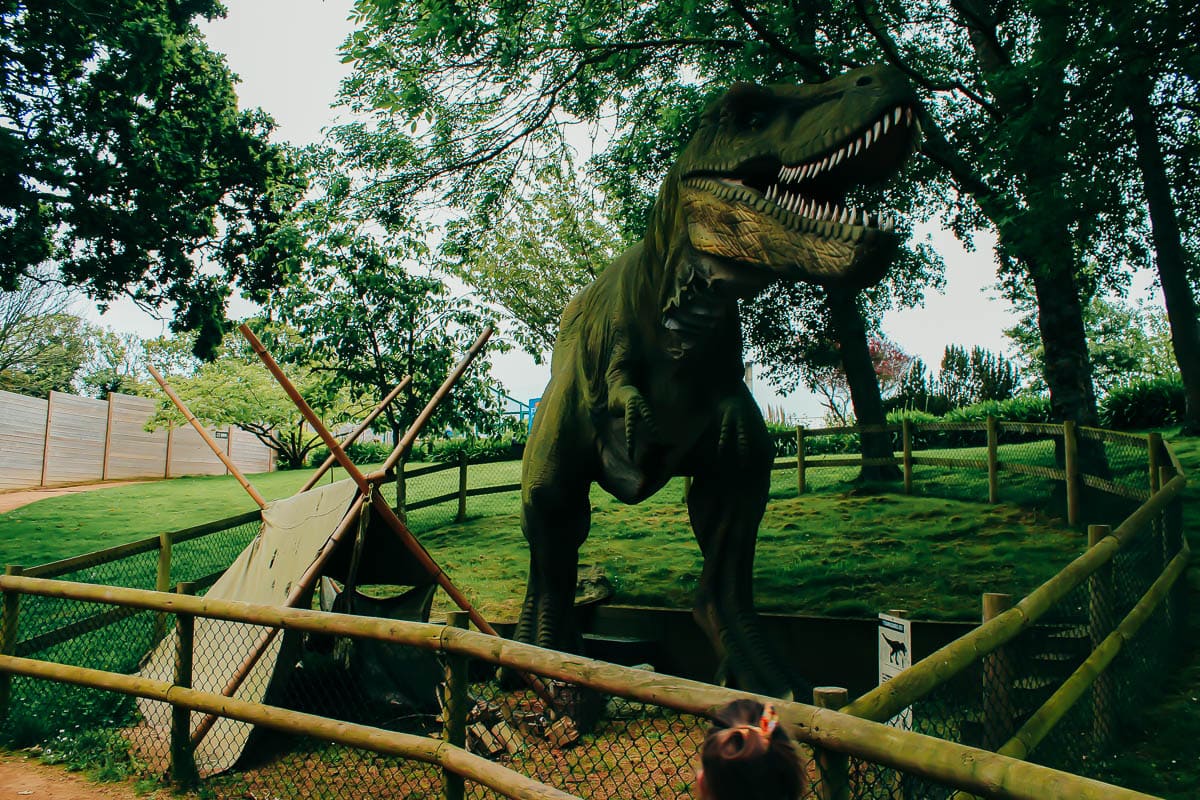 All the profits from Tamba Park go to Ruff's Kitchen, a charity set up by the owners to help school children in Zimbabwe to get a hot meal each day. The day after our visit they actually closed down for a couple of months for refurbishment, so it will be interesting to see what they do, as some areas were looking a bit tired with some activity areas empty.
Amaizin' Adventure Park
Sadly we visited too early the year to get lost in the maze made of maize, as it hasn't grown yet (It opens 1st July) but there is so much to do outside and inside without it!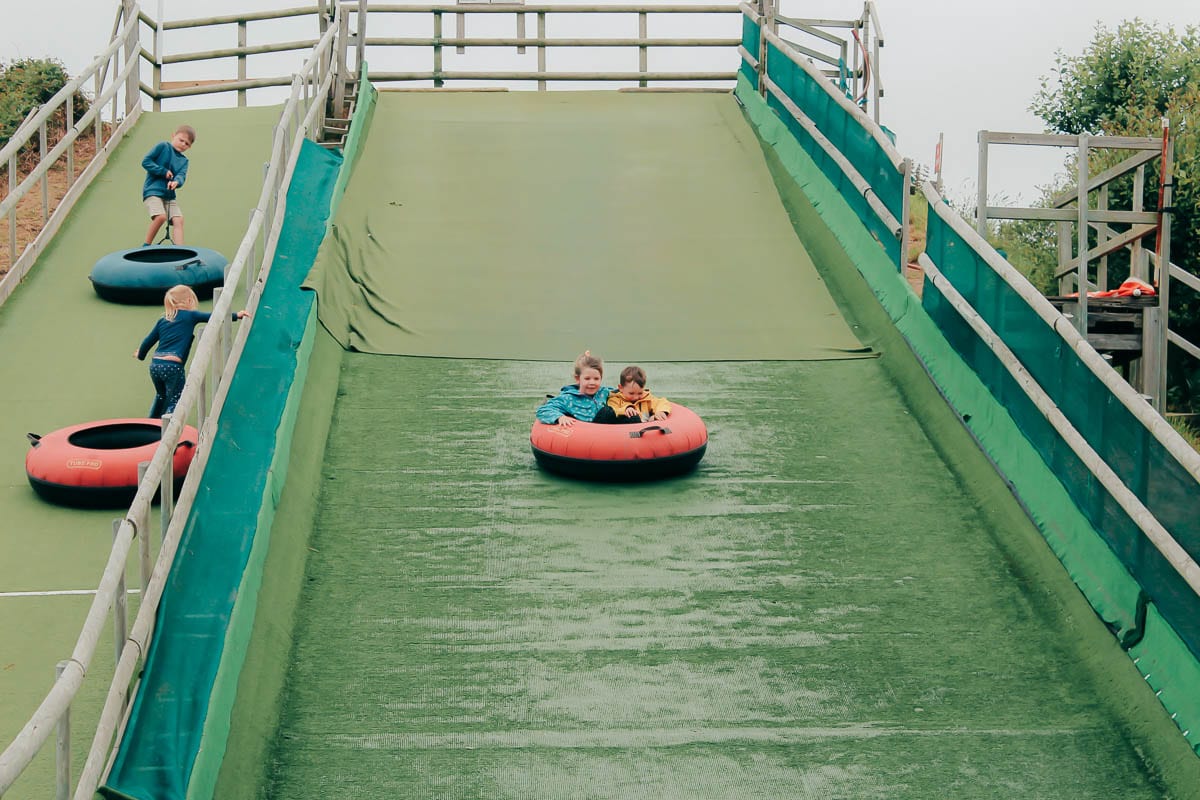 Outside there are a lot of different activity areas, from racing pedal tractors to tin can alley, mini golf to the amazing towering toboggan slide, which we went on over and over!There is a giant bouncy pillow, foot-golf and so much more, over 30 activities. Inside is a huge soft play area, with dress up, sensory rooms and drop slides, as well as ball-pit shooters. There are two cafes on site and a gift shop.  website
Here's a video showing you a few snippets of how we filled our days, and our journey to and from the island…
Where to eat on Jersey
There are so many amazing restaurants on the island, but due to two fussy eaters who were often pretty tired by 6pm let alone any later we didn't really make the most of them. Here's a little recap of where and what we ate, in case it's helpful for anyone planning a trip
Portelet Inn, Portelet – a country pub with both an indoor and outdoor play area. Food arrived super-fast though it wasn't hugely busy and the portions were SO generous, kids included. It's right next to the steps down to Portelet beach.
Hectors Fish n Chips, St Helier – a highly rated fish and chip restaurant with a takeaway counter too. Locally caught, and very tasty!
Merton Hotel's Belvedere restaurant, St Saviour – This is the largest restaurant at the hotel we stayed and it offers a buffet experience with themed evenings.  We had breakfast here each morning too but will write more about that in my hotel review.
Wayside Cafe, Saint Brelade Beach – We only had cake, coffee and hot chocolate here but it was all very tasty, and the views out across the beach are just gorgeous!
SS Vega cafe (next to Jersey War Tunnels)  – a super retro cafe decked out with union jacks and twee decor, including proper vintage china! It was a really lovely spot to have lunch before we explored the tunnels.
I really would recommend Jersey as a destination for families who to feel like they've been away, but don't want to faff about with planes or hiring a car and want to spend time on a friendly and welcoming island!
We have teamed up with Condor Ferries to offer our readers a special discount for travel this summer.
Book a return trip with your car to Jersey or Guernsey on any Condor sailing from Portsmouth or Poole and receive a 10% reduction off published fares.
The offer applies to all bookings made between 08 and 22 June and for travel from 01 July to 30 September 2019.
Simply log onto www.condorferries.co.uk and enter promotion code BLOGOFFER in the 'Your details' section when booking to receive the discount.