We started off our morning after a hot cup of tea sat on the decking overlooking the gorgeous views talking about our night the night before, where we managed to stay up till gone 1am drinking rosé and playing Cards Against Humanity…  then it was time for a gorgeous cooked breakfast thanks to Laura and we were ready to hit the road; and beautiful roads they were too!
We drove through winding country roads with snow dusted mountains on either side, following the signs to Drumnadrochit and onwards towards Loch Ness. Our first destination was the Jacobite Cruise dock,  we parked at the hotel on the side of the Loch had a little look around the gift shop, grabbed a warm drink and then headed underneath the road through passageway that opens to reveal the gorgeous calm waters of the Loch Ness. Our boat was waiting to be boarded, so we collected our 'Freedom' passes which entitled us to a return trip to Urquhart Castle and filed on.
The boat was really well designed so that you could get a 360 degree view of the Loch and the mountains surrounding it from the viewing platform on the top deck, with plenty of bench seating for taking it all in. The lower deck is enclosed with booth seats, surprisingly spacious and very clean toilets and a little Costa Coffee area that served drinks, snacks and souvenirs. There was also a map of the loch printed on each of the table so you could see where you were and learn a bit more about your surroundings. On one wall there was a screen displaying the radar of the boat and computerised chart of how deep the water was (around 227m at the deepest!) I didn't spot Nessie popping up on the screen but I did keep an eye out!
We were lucky enough to be graced with gorgeous blue skies, a light dusting of cloud and bright sun; so though it wasn't warm it was the perfect day for sightseeing. The cruise towards Urquhart Castle, our destination, took around half an hour and there was a recording of local information and additional Scottish music playing on both decksso that we could find out more about where we were, our surroundings and of course the famous myth of the Loch Ness Monster (or is it a myth….?)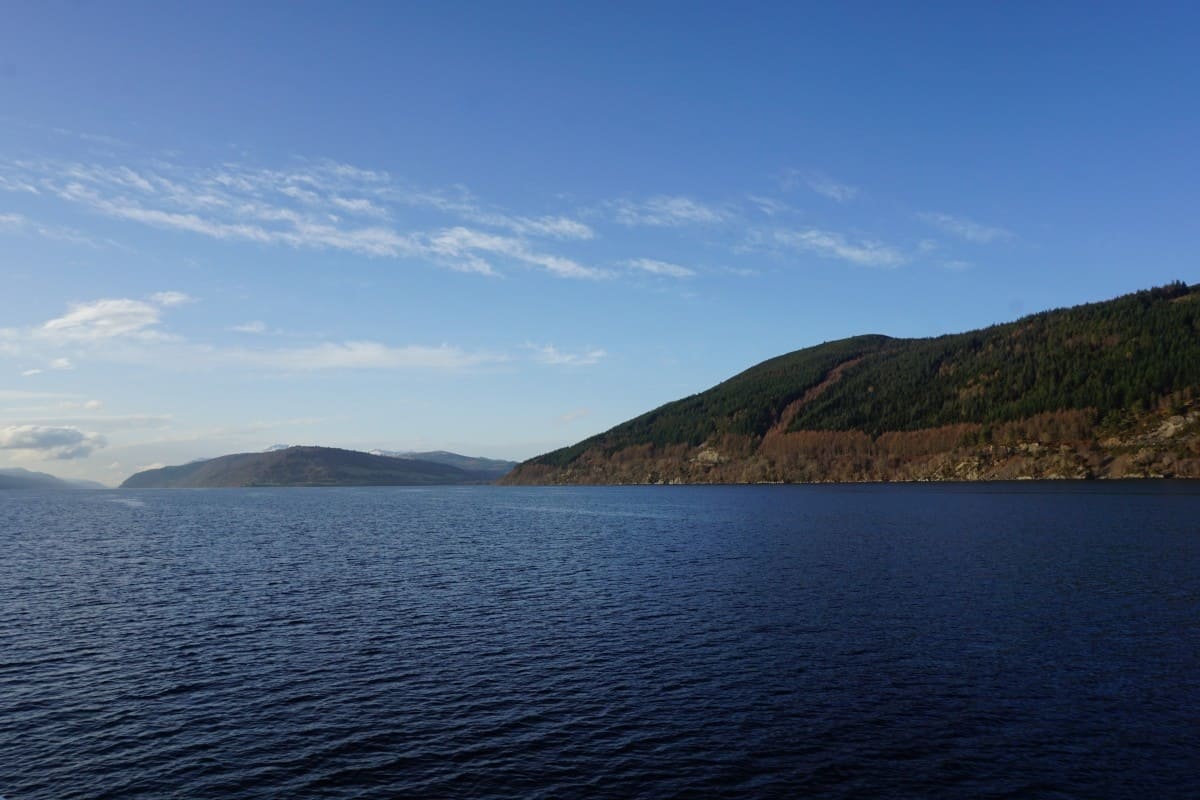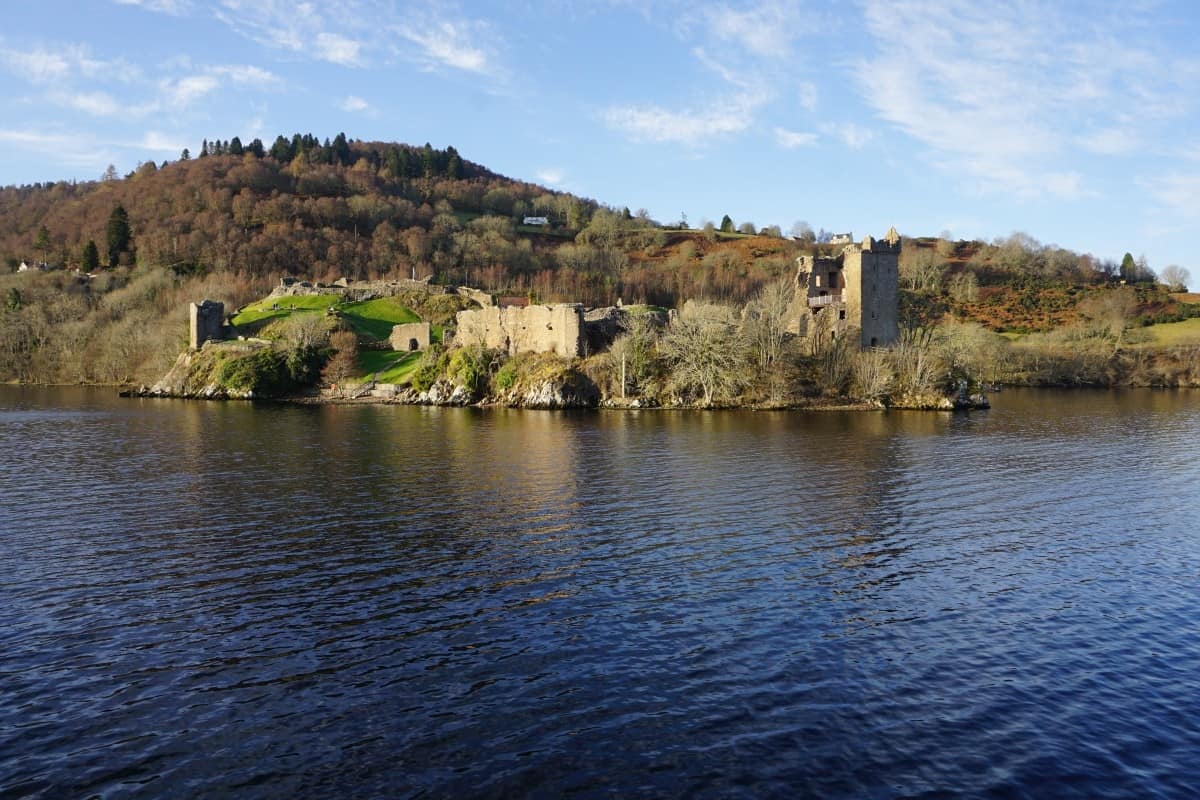 As Urquhart Castle came in to view you could see how splendid it once would have been, centuries ago. Most of it is in ruins now, though the tower still stands, looming over the Loch. We made our way off the boat and up towards the Castle to explore. There is a visitor centre too but I spent my time strolling around the castle taking photos and then saw that there was going to be a guided tour so joined in with that. I absolutely love castles and spending the day exploring a castle in any state is one of my favourite things to do. I always loved finding more about the history of the Castle and it's inhabitants. Our guide, Graham, was really knowledgeable happy to answer the questions that we had and took us to the history of the local area, the loch, castle and all how it would have been run in the past.
I then explored the castle tower, trotting up and down some rather narrow spiral staircases and it always strikes me how amazing is that hundreds of years ago people used to hurtle up and down those steps serving the King, probably only seeing by the tiniest slither of candlelight as they went about their business. Eventually it was time to stroll back down to the boat where we asked the friendly like to take a group photo of our little clan, then back on the boat we went!
Our trip back was calm and seemed to fly by, as we watched the castle gradually fade into the distance behind us. Once we were back in the cars we headed towards a pub for a for lunch settling down on a nice big table and tucking into our meals. It was then time to make our way back towards Eagle Brae to catch the sunset; stopping every so often to marvel at the snow covered mountains and the lakes and rivers. We arrived back around sunset chilled out for a few hours round the wood burner before heading into Inverness for the evening.
We spent the most delightful evening at the Kingsmills Hotel, which is located next to Inverness golf course on the outskirts of the city. We were shown around some of their luxury accommodation including the Kingsclub section of the hotel, which stands opposite the original building, guests there get a welcome drink whilst their luggage is taken to their room, and use of the exclusive guest lounge. In the main hotel building there are a selection of room types available, including spacious family rooms with bunk beds. We also had a look round the the gym area, with treatment roms and spa facilities and 12m pool. With two restaurants and a Whisky bar you'd be spoilt for dining choice, and it sounds like on event nights (like Burns night and Hogmanay) the hotel really comes into its own, with families coming back to stay year after year!  The Kingsmills Hotel is beautiful inside and out, with attention to detail evident in all the areas we visited. Many of the rooms have a really modern feel and will be perfect for people looking to explore the Highlands but also make the most of staying in a city.
As we were sitting having a chat around an open fire in the lobby of the hotel chatting to the hotel manager, we were introduced to Bill who was dressed in full Scottish traditional kilt and serenaded us with his bagpipes, and we followed him and his bagpipes through into the private dining room, and listened to him give us some history of the hotel and of one of the most famous guests, famous Scottish poet Robert Burns who it is said had many a meal in the exact room that we were sitting in; a real piece of Scottish history!
Our meal consisted of a selection of traditional Scottish dishes, presented impeccably. There was Feather blade of local beef, which was so tender, plus a Haggis Tower! I must admit I had never tried haggis before I didn't think I would even want to but when it was placed in front of me topped with two types of Mash vegetable and a creamy sauce I tucked right in and to my huge surprise found it was actually really delicious, and I am so glad I tried it! We were served a hot spiced Apple & Raisin Crumble for dessert, which was the perfect end to our meal.
After chatting the night away in the gorgeous dining room, we eventually headed back out into the cold to drive back to our Log Cabins for another night's sleep. I'll definitely be back in Inverness soon, although it's about as far away from my home on the South Coast it took under an two hours to fly to Inverness from Gatwick, was as cheap as chips for a return flight and there is so much more to explore! After seeing all my photos and videos from my trip Sam has decided that we need to extend our semi-planned '5 year anniversary' Edinburgh trip to visit the Highlands, so watch this space! Much as it will be lovely to share another trip with my husband, my 9 blogging friends and I had a blast, and it was so nice to relax in the company of people you really feel comfortable with! I've covered my trip in my weekly family vlog, and in this trip specific one too.
We were also treated with a new watch from the divine selection by Charles Conrad, which meant we managed to arrived everywhere on time, despite there being ten of us in two seperate cars! I chose a rose gold mesh strap, and a clear white face with a date display, which is something I find so useful as without it I never know the day! It's light to wear and goes with everything. I also made good use of the Joby tripod, I used it mostly with my Sony camera, it was perfect for attaching to fences, standing on tables and all sorts, anything to get a clear shot! It came with an adjustable attachment for smart-phones too, which I thought was really clever, it's got a happy home in my camera bag now!
Here's where you can find the rest of our clan: Dear Bear and Beany, Five Little Doves, Le Coin De Mel, (and thanks to her for the two group photos!) The Littlest Darlings, (with thanks for the shot of me!) Mudpie Fridays, Keep Up With the Jones Family, Bridie by the Sea,  Mummy and Boo. and Tired Mummy of Two.