I'll admit that I had always labelled Bon Marché in my mind as for 'middle aged' people who like bright patterns (I've just turned 30, am I middle aged?) When I was asked if I wanted to choose something from their range of dresses I was pretty sceptical as to if I would actually like anything but I was wrong! Although there are a fair few dresses with bright prints that I would associate more with doctors receptionists of a certain age (sorry if you are one!) there actually was also a LOT that I liked the look of.
In the end I chose a black and white zig zag print maxi dress, and because it comes in a choice of lengths I don't trip up when I walk up the stairs in it (an Important factor if you're carrying a baby and an armful of shopping!). As a 5'2" shorty I rarely bother with maxi dresses because they are always too long, but I love them because they hide a multitude of sins! I've worn and washed it now, no bobbling or losing shape and it dried super fast and didn't need an iron as I hung it from a hanger, so even better!
This dress has a flattering knotted neckline, revealing enough décolletage to not be frumpy but not so much that it's OTT, and is from the David Emmanuel range. Hopefully it'll be warm enough soon to wear it without the cardigan! You can view the full dress range but here are my favourites, I think the polka dot one would be a perfect work dress!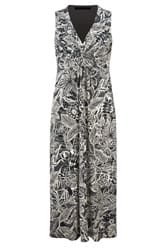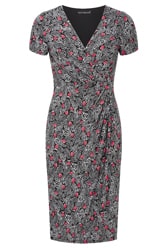 Any of these take your fancy?
I was sent a dress for the purposes of this review, all opinions and words are my own, as ever!