The holidays bring lots of joy and fun with them. A great way to show your festive side is through your kitchen. There are a multitude of ways to give your kitchen a jolly atmosphere – here are the top four. 
Seasonal Decorations
This is probably the most obvious tip – decorate for the specific holiday you are celebrating! Utilize colours and incorporate them into your kitchen's design. For example, if you are decorating for Christmas, try finding pieces that are green, red, white, or gold. These pieces will help to keep the holiday theme throughout your space. Also, consider taking some of the decorations you already have in the rest of the house and using a few for the kitchen! A small tree on the kitchen island gives you the opportunity to dress it up for literally any holiday. Small decorative trees are the perfect accent for a kitchen! Take the time to figure out how to enhance your interior decor the way you've never imagined. Even streaming a fun holiday banner across the top of your cabinets or stringing some lights by the window will make the space feel jolly and festive.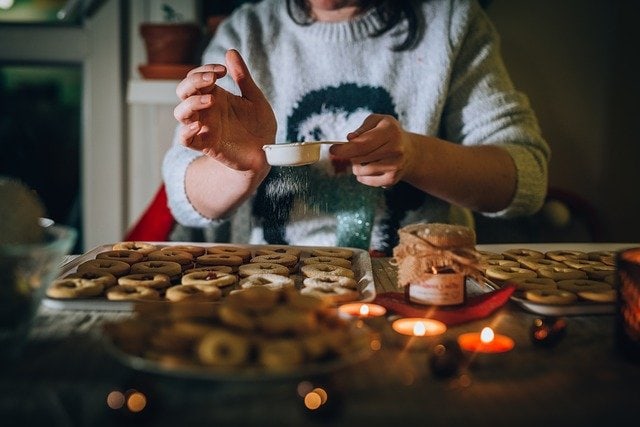 Baking 
Another fun way to get into the holiday spirit and add special touches to your kitchen is to bake. Find your family's secret recipes and try them all out or create some new ones to enjoy. A fresh tray of chocolate chip cookies will fill your whole home with a delicious, warm smell and it will be coming from the kitchen! Find your favorite holiday treat and put it into your favorite cookie jar on the counter. The act of baking and the reward of having the desert there at the ready for you will definitely make your kitchen feel holiday-ready. 
Prepare for Winter
Now that the inside of your kitchen is festive and fun it is super important that it is safe and warm for the winter. This involves looking into damp proofing services and creating warm layers for the space. Finding some warm, thick rugs and investing in door pillows to keep out the cold are great ways to keep your kitchen stylish and cosy. Another fun idea that will add ambiance and warmth to your space are candles! Multiple stores have an impressive variety of holiday scented candles – anything from Christmas tree to gingerbread scents. Adding a big candle of your favourite scent will make your kitchen that much more welcoming. 
Little Details
Now that you have decorated, baked, and prepared for the cold, your kitchen is looking great. All it needs are a few small, personal touches to really make it your own. If you love the smell of cinnamon, cook some on the stove top for a wintery, delicious smell that wafts through your kitchen. Make some hot chocolate, apple cider, or eggnog depending on what you love. Lastly, throw on some of your favourite holiday music and turn your kitchen into a party! Incorporating what you enjoy is the most important thing to remember when amping up your kitchen for the holidays.
Collaborative post. Image by Helena Jankovičová Kováčová from Pixabay