I am always looking for after school and weekend activities to keep the kids busy and off their screens for a while longer. Crafting is something both my children are super happy to get stuck into, mostly because it generally means making a bit of a mess! I've put together some ideas for really simple Christmas crafts you can make with toilet roll tubes and things you probably have in your arts and craft stash, but I'll suggest some alternatives too.
First up are 'festive figures' so Santa, Elves, Snowmen, Mrs Claus, Fairies, Reindeers, the three wise men, Mary and Joseph… basically any festive character you can think of! First you need to use either coloured paper or material to wrap around each toilet roll tube in a colour that is associated with your character. I used felt and stuck them down with UHU glue but you can also use 'sticky fixers' or glue dots, or even a stapler if you do it at the back where the join can't be seen.
Next up – decorate! This is the fun part and there is no right or wrong way to do it! You could even get every member of the family to make the same character and see how different they turn out from one another.
For Santa I firstly pinched together sides of one end of the tube to create a point for his hat. Then I drew on a belt and buttons, stuck a white triangle on for his beard and added googly eyes. I then used some stripey red craft paper for his hat and glued a pom pom at the top.
My daughter made Mr Snowman, and she used white felt for his body, and cut out a scarf shape and wrapped that round and stuck it down at the back. More google eyes and drawn on 'coal' for his mouth, and the nose was cut from some foam stickers we already had.. His hat was cut out of felt too and glued to the top of the tube. You could also add cotton wool at the bottom or even glued onto the body, though we didn't have any sadly!
For the Gingerbread Man, which Arlo made we didn't bother wrapping the tube – partly because 5 year olds have no patience for waiting for things to dry and partly because I didn't have any brown felt! We cut out a circle of loo roll tube using the end of another to draw round to get a perfect circle and made the face (googly eyes and a drawn on smile) before attaching it to the top of the tube with a sticky fixer. I cut out a little bow tie from green felt (you could use paper/card or draw it on) and glued pom poms on for buttons. The legs and arms are strips of loo roll cut to 1cm for the arms and 1.5cm for the legs. Concertina fold them to make them 'springy' and attach the arms to the outside of the tube with glue and the legs to the inside of the tube. This means that you can sit your Gingerbread Man on a flat surface and have his little legs dangling!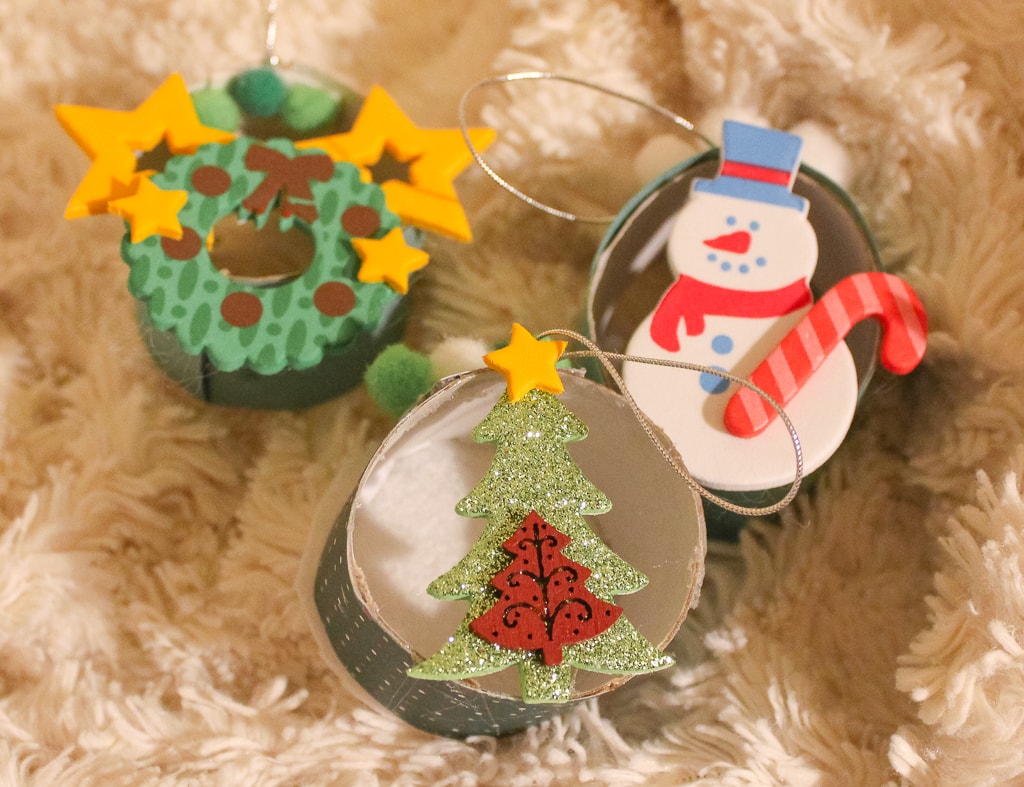 Another really easy craft idea to utilise all the toilet roll tubes are as baubles. Again these can be made in lots of different styles depending on the materials you have available. We had a pack of Christmas foam stickers that I picked up in the January sale a couple of years ago, so we used those as the focal point, but you could cut out and colour your own shapes of course, or cut out characters from last years Christmas cards or some wrapping paper!
Cut each loo roll tube into three sections. This can be a bit tricky depending on how flexible the tube is! Then cover the outside with coloured paper, wrapping paper or just colour it in! If you're really brave you could roll it in glitter! Then use some glue dots to attach your picture to the front on to the edges of the circle. Feel free to add embellishments like pom poms, sequins or anything else you fancy!
Then cut a length of ribbon or string that's about 20cm in length and double it to make a loop. Use a sticky fixer or some sellotape to secure it to the top, near to the front so it hangs eveningly without tipping forwards, and you're done! I also added hanging loops to our characters too so we can hang them on a tree or a string of fairy lights if we wanted to!
I'd say each character took my kids about ten minutes to make, once we'd looked through all our materials and got out what we needed. Of course they're not perfect but they were handmade with love and the kids had a lot of fun making them! We just to get our tree up now so we can hang them up! Also, super excited that this post has been included in the Twinkl's Make It Your Own Christmas campaign showcasing their top picks for Christmas Crafts and there are some really cool ideas there to try too.
We had all the materials already but good places to look for kids craft supplies are The Works, Poundland, Wilkos etc on the high street or if you're shopping online then here are some great buys to get your craft kit started at home. I also have a really easy and accessible way to store your art and craft supplies if you're getting in a mess with it!
[affiliate links, I may get a small % of your purchase but this does not increase the price you pay]
Let me know if you give these a go, I'd love to see!