I am always looking for fun activities to keep the boredom from edging in after school as I find if I can keep the kids busy and happy and spend some time with them for an hour or so when we get it that they will be happy to chill out after that and let me cook diner in peace! Games from Orchard Toys are always a great way to spend screen-free time, have fun and (shh, don't tell the kids!) do a bit of learning too!
We picked two games to have some fun with, the first was Mammoth Maths. I wasn't sure if having 'maths' in the title would put the kids off but nope – when they got everything out of the box and saw the coloured Mammoths, the counting bone and 'magic torch' they were excited to get playing!
The aim of the game is to solve your sums as you go round the board, collecting completed boulders on your Mammoths trunk. Each boulder has two sums, a plus sum on one side and subtraction on the other. There are easy and trickier sums, plus a number line included. Arlo started school in September so used this to work out most of his sums but Athena in year two only felt like she had to use it a few times and worked the others out in her fingers/in her head. Once you think you have the answer you can check it using the torch, as the answers aren't visible without it! When you've completed all your sums the first person back to the cave is the winner – but watch out for your opponents landing on the feather space as they can make your mammoth sneeze and lose a boulder so you need to do another sum!
This game can be adjusted in a few ways, you can use only hard, easy or a mixture of sums depending on the ability of the players, and you can choose do to more or less sums to lengthen or shorten the game. For older kids you could even make up trickier sums too.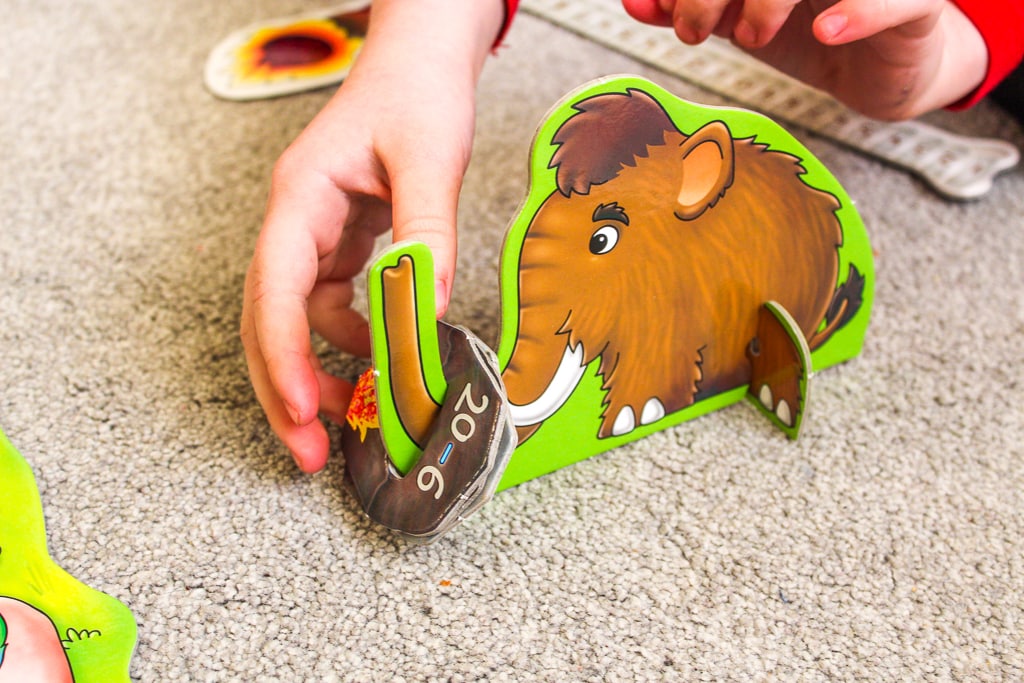 After we had played this and put it away Arlo actually got it out again later to 'play by myself' as he just wanted to practise the sums and get lots of boulders on his mammoth – cute – and a surprise as he has never shown an interest in wanting to learn sums out of school so far!
The next game is Loopy Llamas, where four nutty llamas have a pool party, complete with pool rings and diving boards! This is a pattern matching game for ages 4+, though I think with some simplified rules kids of 3 and up could play. You work your way around the board adding rings to your llama, but this is quite tricky as you need one of each of the 4 designs and have to land on certain spaces to do this! Once you've got them all you need to roll an exact number to land on a diving board – something Arlo got increasingly frustrated with! Then it's time to spin the spinner to see if you can be the first to jump into the pool!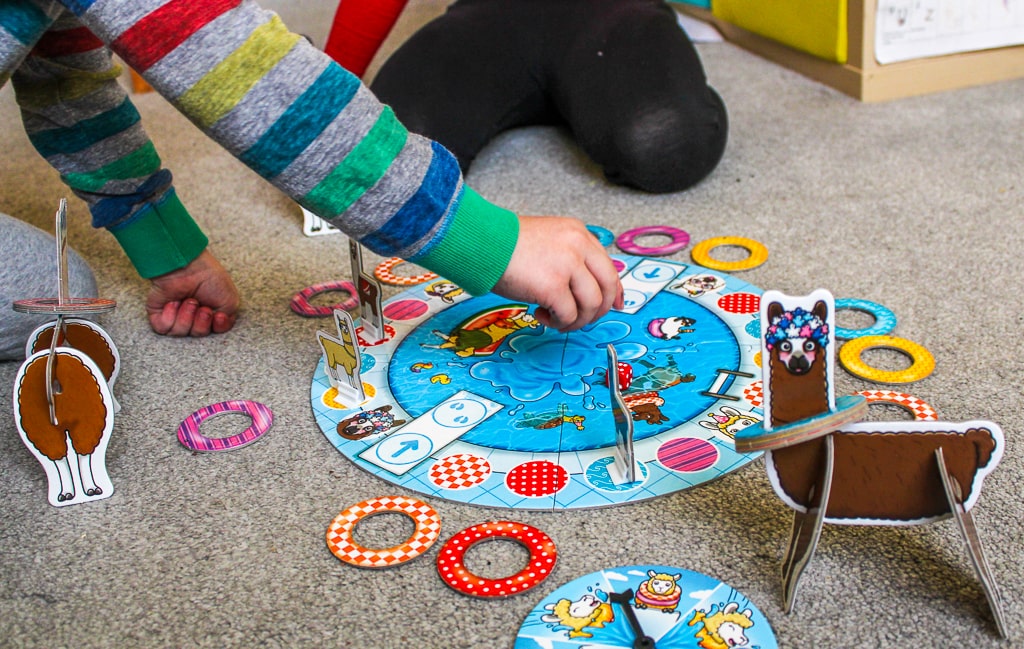 This is a much less 'thinky' game but surprisingly Arlo said out of the two his favourite was Mammoth Maths!
Orchard Toys games are available from Amazon  & all good toy retailers. You can view the full range of games and purchase from Orchard Toys here.