I've been a fan of backpacks since my youngest was born – it suddenly seemed so much easier to pop all the stuff I needed for two kids under 2 years old in a backpack than a proper changing bag that was always swinging off my shoulders and bashing into things, or making me walk lop-sided. Even now I don't need to carry round all the stuff I need for two small kids being out and about with them (or without them!) being hands-free is much easier! My old backpack was on its last legs, it was scuffed and had holes in and the zipper had a mind of its own. Scaramanga offered to let me pick a bag from their selection of leather bags, luggage and accessories. Despite loving the all-leather backpacks I thought they might be a bit heavy for me once they were full of my bits and bobs, so after some deliberation went for the small leather and canvas backpack.
Scaramanga don't just make luggage and bags, but also some really unusual and quirky furniture styles too, as well as belts, wallets, keyrings and so much more. They use vintage leather and other ethically sourced materials, all hand made by skilled leather workers and it really shows as the quality is noticeable. It arrived in a gorgeous dust bag and as I unwrapped it I knew I'd made the right choice in size, as it's just the right size for a short-person like me!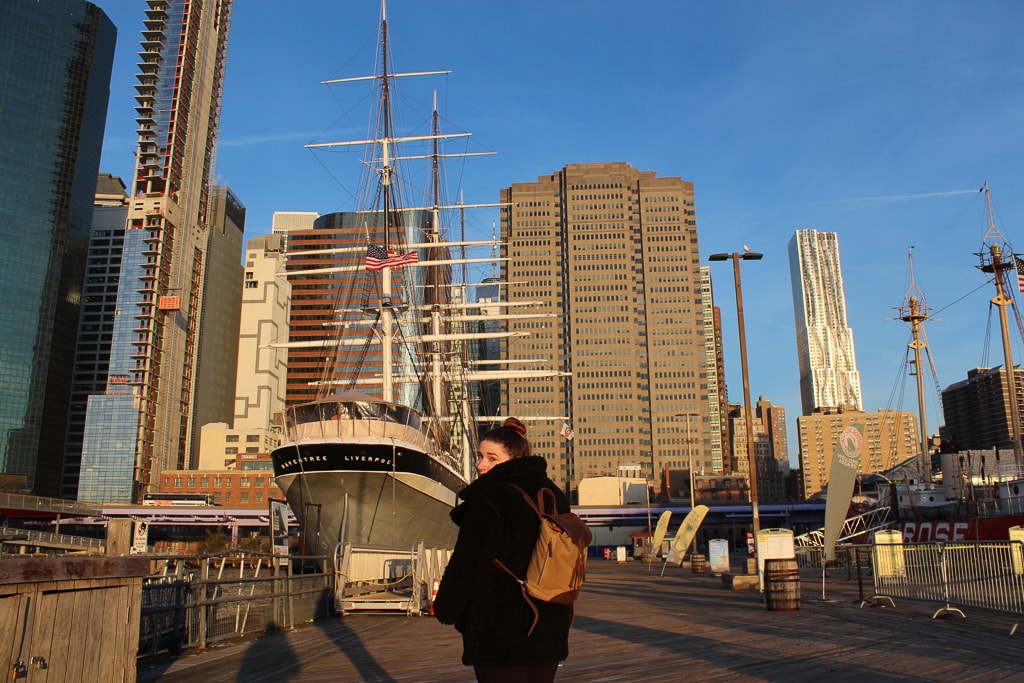 I used it a few times before we went to NYC , but used it daily whilst trekking around the city and it was the perfect tour partner! I had my DSLR camera, a 2nd lens, a battery pack, purse, lip balm, 2 canvas tote bags , hand sanitiser and tissues! Inside there is a zipped pocket and another smaller pouch, perfect for lip balm & hand sanitiser. On the outside of the bag there are two smaller zipped pockets, one on either side – I kept my passport and boarding pass in one of these for easy access in the airport! The bag does up with a leather cord and toggle and secures with a slide in buckle. The straps are adjustable, and when Sam wore it a few times it easily fitted him at 6'5!
Perfect for days in New York City, but would look just as a good during our summer festivals and camping trips too. The durable materials mean that it will last for years and years I'm sure, which is something that many of us are starting to think about more in these ever increasingly eco-conscious times. I am considering longevity of things I buy these days and something that will last far longer than it's poorly made counterparts is always a winner!