It's no secret that I love to eat, and though both kids love to eat they don't always love to eat the right things! Thankfully pasta is one of the things they do really enjoy, so a big bowl of pasta to dig into is right up their street. Prezzo have introduced family sharing dishes called 'La Famigliana' and we headed to Brighton Marina's Prezzo to fill our bellies on Monday lunchtime.
My kids have a strange relationship with food; something that has previously been a favourite they will turn their noses up, or call something by the wrong name to fool them and they'll dig right in! For example call Cottage Pie 'chilli with mash potato' and they'll eat it! What I have found out is that given the chance to eat someone, anyone else's, food they'll take it. Its always amazed me how a "not hungry" or "don't like it" will suddenly turn into devouring food from someone else's plate! I cottoned on to this quite early on in Arlo's weaning journey, which was a slow one! I worked out that if he got to choose what he wanted to put on his plate he was more likely to eat it. If we were all being served from the same dish then even better. Prezzo is on to a winner because their new dishes are perfect for sharing, a big dish for everyone to dig in to, taking as little or as much as they want!
There are four different pastas to choose from Penne Arrabiata, Spaghetti Bolognese, Spaghetti Carbonara & Penne Alla Rusticana with Chicken. We chose Spaghetti Bolognese and whilst that was being prepared we tucked into a couple of cheesy garlic Pizza Breads which are huge! Sam and I shared one with Goats cheese on and the kids a plain cheese. We taught Athena how to use a knife and fork together, a great life skill and one that she needs to get the hang of before she starts school! She's almost there actually! Arlo of course wanted to join in but basically just got his knife and fork tangled, or used them to hammer the table with! Choosing one dish to share means that everyone gets the same meal, no envious glances or cheeky forks edging towards other peoples plates!
Our huge bowl of pasta was brought out with a flourish, accompanied by some tongs for us to serve it with and a Parmesan wielding waiter ready to dispense as much cheese as you fancy onto your dinner!  The Italians really do have the right idea when it comes to dining, because the novelty of helping yourself to your own food, again and again until you're satisfied is one I can get right on board with! Plus having someone else cook our meal meant that we could sit round the table and have a proper chat, as at home one of us is always busy concentrating on cooking and then thinking about clearing up afterwards. It was fun being able to see the chef in the open kitchen sliding pizzas in and out of the traditional stone oven too!
The Bolognese itself was full of flavour and had just the right mix of perfectly cooked spaghetti and sauce. At £18 a bowl it's a really cost effective way to eat out too, as there was more than enough for two adults and two children. Next time I think we'll try the Carbonara out, we just weren't sure if the kids would appreciate the crispy prosciutto!
We chatted and laughed and got stuck into to our meal, and before we knew it we were feeling full and staring at empty bowls! Here are a few things we learnt about each other during the course of our meal:
Sam wants to up his 'instagram game' (who knew! He uploads more than me now!)
Athena likes to use a knife and fork because she's a big girl
Arlo discovered magnets – he spent ages attaching his spider man figure to the little metal bucket the crayons came in
Athena is pretty good at drawing pictures of mummy (if mummy looked like a potato!)
I realised that balsamic onions are my new favourite thing
Arlo gets most upset if you try and take his hat off
Athena can suck spaghetti like a pro, Arlo not so much!
Neither kid can eat ice cream without making a huge mess
After our meal we left Prezzo and turned left to walk along to the far side of the marina, passing boats and yachts for sale and dreaming of being able to afford one! When we reached the far sea wall we lifted the kids up so they could see over towards the cliffs, ferry and boat spotting. It's the perfect location for a walk with a view after a big lunch!
You can find and book your local Prezzo here.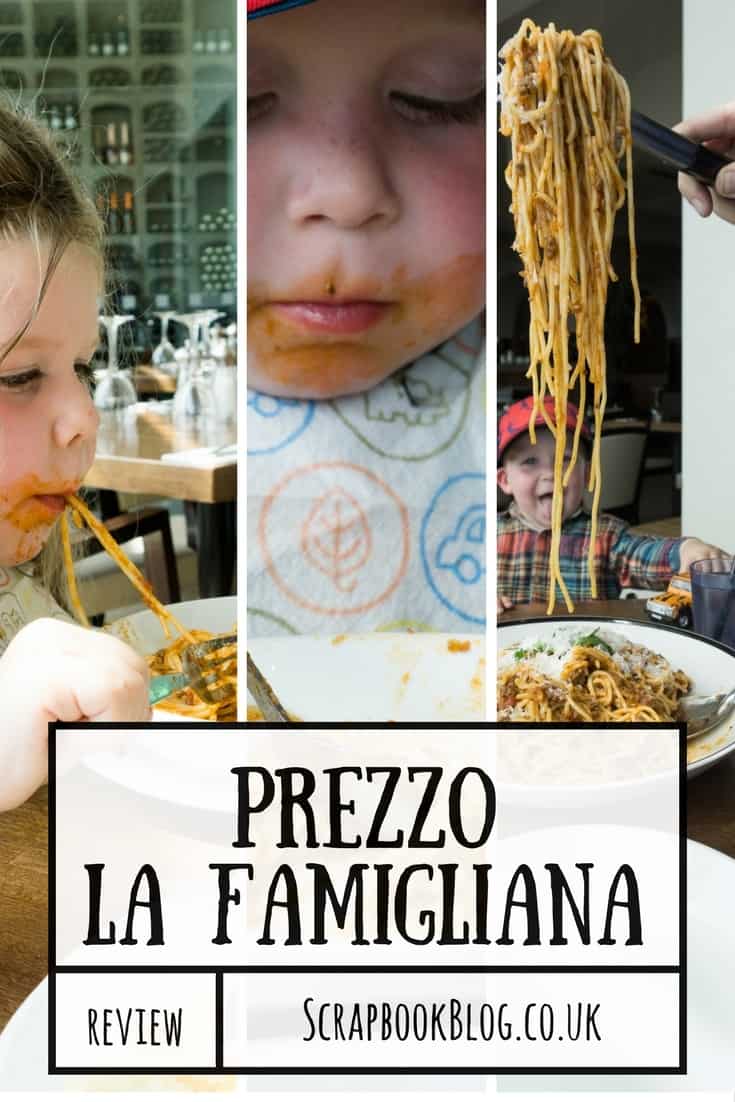 This post is an entry for the BritMums #PrezzoLaFamiglia Challenge, sponsored by Prezzo.