Last week the kids and I, along with my friend Nick spent the day at the Sealife Centre in Brighton. Branston had sent us tickets to explore as part of their new on-pack promotion 'Endless Fun', where you can exchange a promotional wrapper from their delicious beans for a Two for One ticket at either a Sealife Centre or at Thorpe Park! It was a day when Sam was working a long day at work, and I had a conference call in the morning, then had about ten minutes to get us all onto a train to meet Nick. We'd all be tired and hungry by the time we'd spent the day in Brighton and then met Sam for work and headed home on the train so I wanted to plan a dinner that could cook whilst we were out. We all love Chilli con Carne, and I love my slow cooker so I decided on a Five Bean Quorn Chilli. There's a recipe at the end of the post if you want to try it, but its such an easy but delicious recipe that can be left on all day if needs be!
We've been to visit the Sealife Centre before but not for about a year and there had been some changes, and regardless of those there is a lot to look at and do. We had a look at the Starfish and the rays, before stopping to do some colouring and making crabs out of paper plates. A little craft area had been set up just beyond the cafe, so adults can grab a coffee whilst the kids get creative! We listened to a talk about the rays and then headed off towards the under sea tunnel! We saw the glass bottomed boat with gigantic turtles and sharks swimming around beneath it, then headed down towards the tunnel to see them up close for ourselves!
My personal favourite was the Seahorses, I think I could watch them for hours, peacefully gliding around in their underwater worlds, plus I love that the men do all the pregnancy legwork! Athena loved the huge turtle and the sharks in the underwater tunnel, she was completely awestruck as they swam overhead! Arlo seemed quite enamoured by the turtles, there was a round column tank of them in the main hall and it took us ages to persuade him to crawl away and look at other things! Here's us peering in, though the Turtle is out of shot! The giant crabs are really quite giant compared to the tiny crabs we sometimes see at the beach at low tide, I can't say I'd want to meet one of those on a stroll along the sand!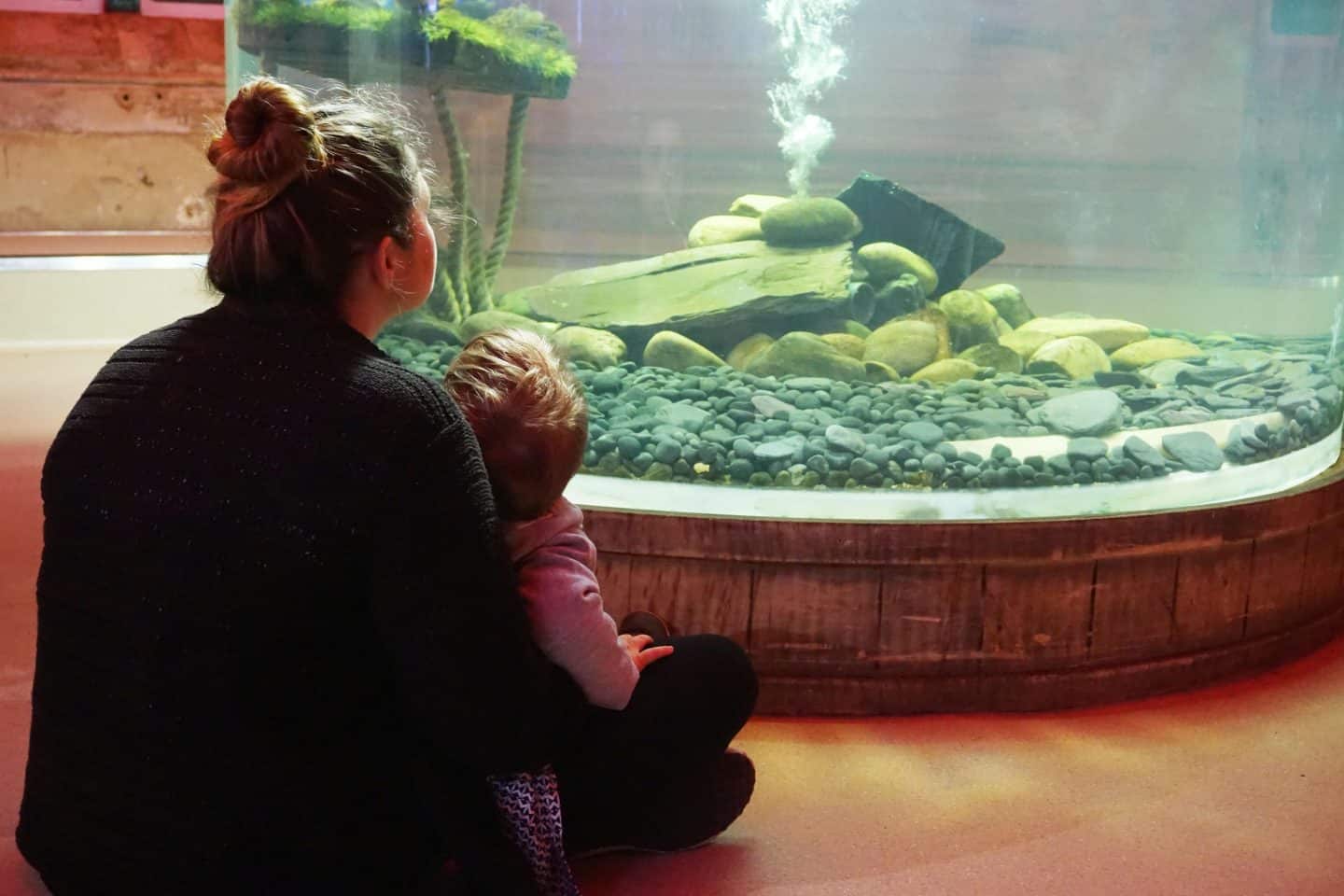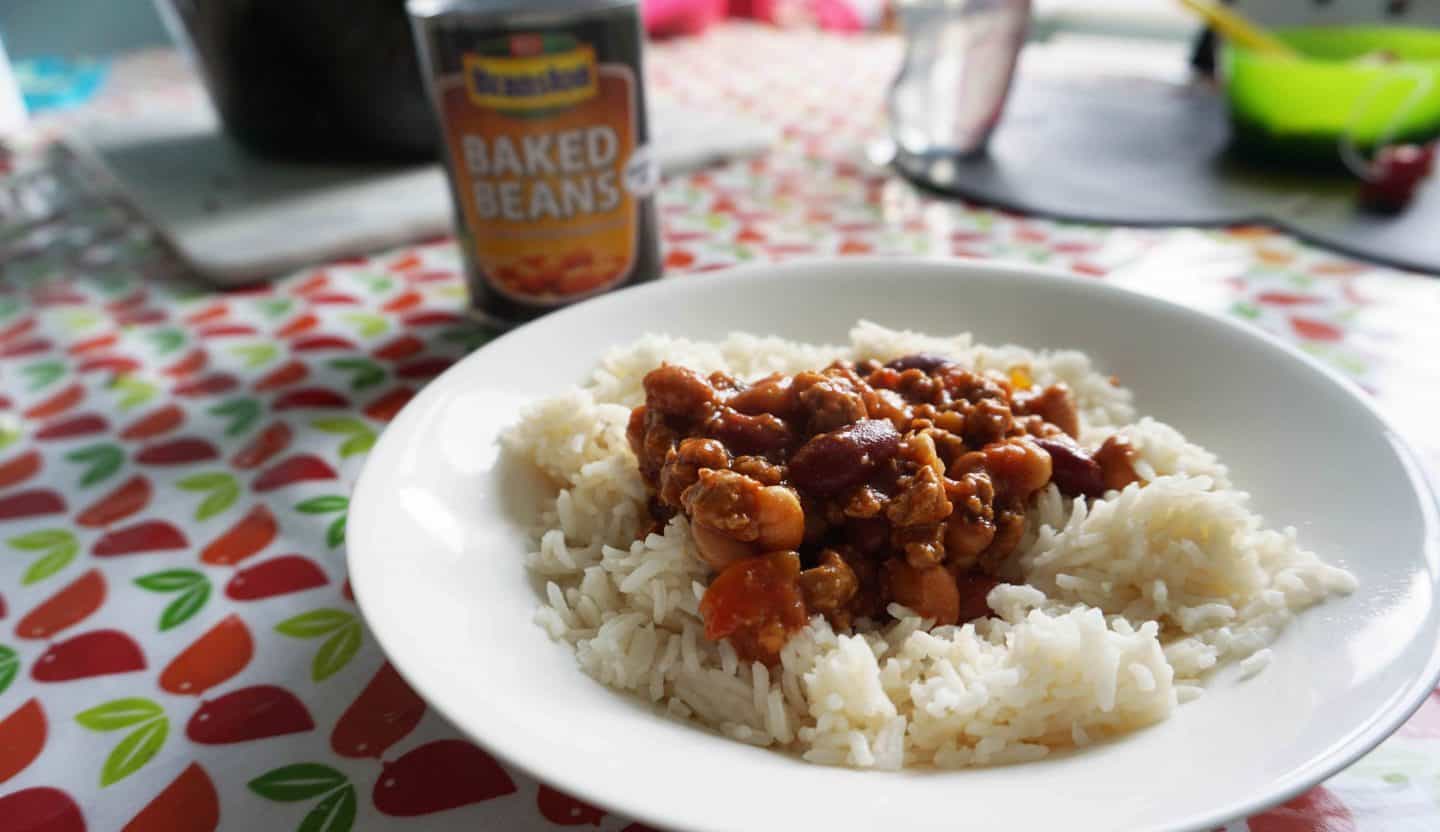 After we'd thoroughly tired ourselves out at the Sealife Centre (and then on the pier!) we headed home and all I had to do was put some rice on the hob and dinner was ready to serve!
Recipe: Five Bean Slow Cooked Chilli:
Ingredients:
500g Quorn Mince
1 Can Branston Baked Beans 
1 Can Black Eye Beans,
1 Can Kidney Beans, 
1 Can Butter Beans, 
1 Can Borlotti Beans,
1 Can chopped Tomatoes
1 beef stock pot 
1 tbsp Worcester Sauce
2 tsp mild chilli powder (or strong if you're brave)
1 tsp Ground Cumin
1 clove garlic, crushed
1 Onion, chopped (I cheated and used frozen pre diced onions)
250ml hot water
Makes Six generous portions.
Method: Drain all the beans apart from the Branston Baked Beans and pop them in your slow cooker dish. Mix the stock pot with the water (or you could use a beef stock cube) and add that in, then add the Quorn mince and everything else. Stir well and leave on low for around 8 hours, or high for four.
You can use beef mince too of course, we're just trying to cut down on the amount of meat we're eating. If you do use beef then I suggest browning it off first in a frying pan so you won't get all the fat on top of your chilli. We eat ours with rice, and then the leftovers usually get used for lunch in a wrap with grated cheese the next day!
You can find out more about Branston's Endless Fun offer here. The promotional packs are available until August so there's plenty of time to collect them. You can use them at Thorpe Park until the start of November and year round at the Sealife Centres!