Darker nights, crispy leaves and  Christmas decorations up already,   must be… Autumn?  What a weird year eh?  I am definitely not in the  'early Christmas decorations' camp but I do get why so many other people have their lights and trees up in mid November this year.  We're in another lockdown though for our family it doesn't really feel any different to normal as I am out doing both school runs and seeing hundreds of other families on them, and I work from home anyway. Sam is working at his office two days a week as he was before   too. We just can't see our friends at the weekends or after school or go to shops, which is something I wasn't doing very much of anyway.   I missed last months Scrapbook Loves post and it's  hurtling towards the end of this month so this is an  Autumn  Loves post instead.
What I read this month
Here's what I read since my last update…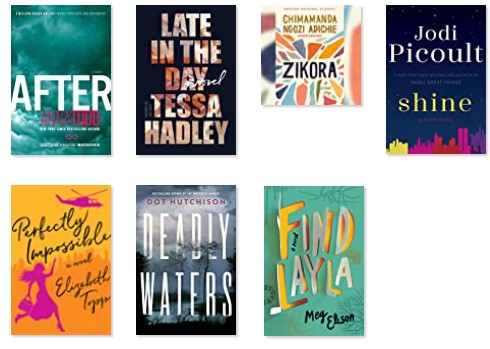 A couple of 'fluff' books,  sort of easy to read books after a period of nitty gritty books, Perfectly Impossible was a sweet but  fairly predictable 'how the other half live' type book based in NYC and After is a  YA book that I realised I had seen to film of half way through,  I couldn't put it down even though it was ATROCIOUS, in terms of writing style and storyline (it's a hugely toxic relationship basically) but sometimes it's fun to just get lost in a trashy novel.   More seriously I  enjoyed the latest Jodi Picoult book, Shine.   It had a semi-surprising twist  but I felt she went a bit too heavy on the Egyptology stuff and I found myself skimming some of those passages.
What I watched this month
Sam and I have been bingeing   on  Good Girls,  of which there are three seasons of on Netflix. It's about three mums who, desperate for cash decide to rob a supermarket, and then the twists and turns that follow.   We also  sped through Emily in Paris, which was so bad it was good, along with Teenage Bounty Hunters which was also cheesy but fun to watch.  I need to start the latest series of The Crown but I know if I do that I will get no work done till I finish it, so it needs to wait till I am ahead of my deadlines!
What I listened to this month
Music wise  Gogol Bordello, Bedouin Soundclash and Drum and Bass mixes of pop songs.  Predictably most of my podcasts are murder based or The High Low, which I am getting a little fatigued by…  so any other recommendations of  semi-current affairs style podcasts welcome please!
What  I made this month
Nothing  hugely exciting, although we did try out the (gifted) Lo-Dough brownie mix, which was SO easy to make- you just add water, mix and  bake!  As will the whole Lo-dough range they're low in calories (these are 65kc per brownie) and  have reduced fat and sugar and low impact carbs. I won't lie and say they're the most amazing brownies I've ever had, but for something so healthy they aren't half bad! There's a lot more info about the range (including pizza bases!) and  what makes  Lo-dough different on their website.   I had a flick through their cookbook too and there are some amazing recipes to try, full of flavour but very little fat and sugars – definitely have a few to try over the next few weeks.
What I wore this month
Mostly PJ bottoms, as I change out of jeans as soon as I get in from the school run… I also donated all my mis-matched PJ tops and random t shirts to the clothes bank in favour of matching PJ's. That's right, at the ripe old age of 36 I am a matching PJ sort of person all of a sudden!
Apart from PJ's I have been loving some new scents, sent to me by Subscents (ad-gifted)   which is a clever idea that means   you can try out or buy your favourite perfumes at a fraction of the price – but still be guaranteed  to get the real thing. I know there are a lot ways to get perfumes that are replicas   but I'm always dubious of them. Subscents   sell real, branded scents in  smaller quantities-ideal for when you aren't sure if you'll like a scent or can't afford a full sized bottle. Let's face it, we're not exactly going to be headed into the shops to sniff perfumes are we – either the shops are shut (cheers lockdown) or we'll be wearing masks anyway! This way you can browse, find out about the scent notes and then purchase the fragrance samples  in either 2, 5, 10 or 20ml sizes. It's a genius idea, and I've fallen in love with 'By the Fireplace' by Maison Margiela but at £98 a bottle  it's was just a little out of my price range (!) but now I have my own  travel sized spray bottle of it- perfect! Such a good way to make sure you have your signature scent to take on the go.
What I loved this month
Dark Chocolate digestive biscuits dunked in tea
Early nights with a book
Cat cuddles
Swishing through fallen leaves on the way to school
Getting a head start on decluttering, we took   SO much to the tip a couple of weeks ago from the attic and have more to go this week!
What I loathed this month
Getting a parking ticket
The boiler breaking and four days with no heating or hot water till it was fixed
The Bath & Bodyworks candle I bought back from America, it smells divine!
Having to start wearing socks and trainers/boots again. I much prefer bare feet in flip flops
How S L O W people are in the whole house moving process! ARGH.
Not going on our usual Autumn jaunt to the Pumpkin  place in Slindon, and not doing any long autumn walks either.