I really love a proper night in, with good films, tasty snacks and good company. Last Friday one of our best friends came to stay before he and Sam headed off to a gig in London at the weekend, so we made the most of a chilly January evening and I thought I'd make us pop corn and a vat of hot chocolate for a traditional film night.
I though I'd share some of my favourite popcorn toppings plus some really easy hot chocolate ideas… 
Cinnamon & Raisin Popcorn
What you need: 2 cups of popcorn, 2 tablespoons of butter, 4 tablespoons of granulated sugar, 1 tablespoon of cinnamon & a handful of raisins.
How to make: Pop your corn, Melt the butter and mix in the sugar and cinnamon and combine, put your popcorn into a pan or lidded bowl, pour the mixture on then shake well (with a lid on!) then add the raisins and serve!
Chocolate & Caramel Popcorn
What you need: popcorn, chocolate sauce, chocolate chips & caramel sauce
How to make: Chuck it all in together, job done!
Coloured Popcorn Popcorn
There are lots of ways to make this, but I have been given some pre-coloured corn so we just used that! If you do want to get creative though then here is some Pinterest inspiration!
Savoury Popcorn Options:
Salt & Vinegar: As simple as that, sprinkle on rock salt, and malt vinegar and tuck in! Works for crisps, and just as tasty on popcorn!
Chilly & Lime: 2 teaspoons of lime juice, 1 teaspoon of chilli powder and 1 of salt, mix that all together, pour over your popcorn and shake well
Parmesan & Rosemary: 1 tablespoon each of butter and olive oil, 1 teaspoon of crushed rosemary (fresh is best) 3 tablespoons of grated parmesan and a couple of pinches of salt. Melt the butter and and mix with the oil, add the rest in, pour over your popcorn and serve!
We make our popcorn on the hob the old fashioned way, but for the last couple of weeks I've been eating more and more and am sorely tempted to find a traditional cinema style popcorn maker, popcorn on tap, life made!
On to Hot Chocolate…
Best made on the hob with milk, I love Twinings hot chocolate powder, and my mum gave me a new tin for Christmas which is almost empty already! I think I have a problem… Anyway, I use an extra spoon (or two) and the biggest glass I could find which is actually for serving 'sharing sundaes' in! It's gigantic and perfect for sharing, I can't find the exact one online as ours was a perk of my husbands day job but this one is similar. I stirred in a generous helping of salted caramel sauce, then topped some squirty cream and edible glitter stars, divine! You could also add crumbled chocolate brownie, cookies or Oreos!
More easy flavouring ideas:
Mexican: half a tea spoon of cayenne pepper, half a tea spoon of ground cinnamon and mix into thick hot chocolate
Raspberry: Stir raspberry jam (a tablespoon should do it) and fling a few berries in to soak too
Peppermint: a teaspoon of peppermint extract, this one is good with lots of marshmallows!
You could always cheat and get yourself some flavoured syrups, they're designed for coffee I think but they work just as well in hot chocolate!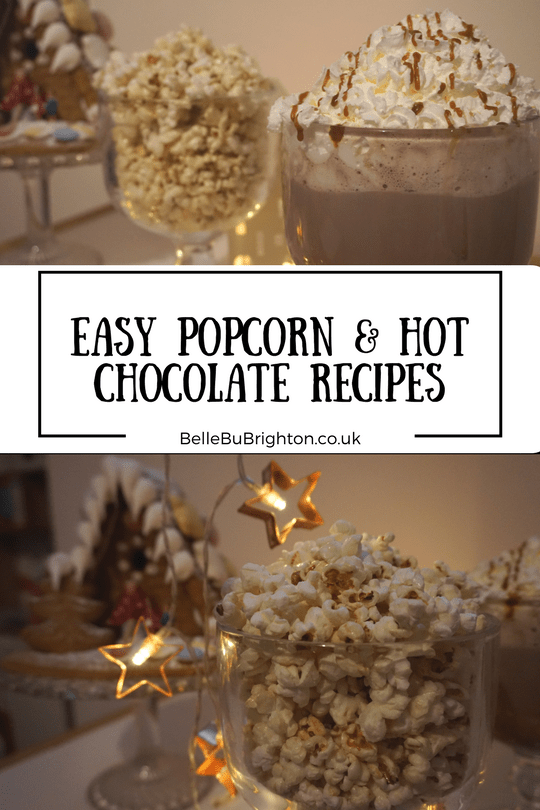 Whats your favourite hot chocolate or popcorn flavour combination?