On Sunday we were up at the crack of dawn to go to the first car boot sale of the year! We arrived at 7am and spent a sunny three hours bargain hunting! We didn't actually pick much up, I had Arlo in a sling so didn't want to keep bending down to rifle through clothes, plus we don't really need anything! We got Athena some books, toy cars and a gun! Oh and some salopettes for our holiday! After that we went to the park in the village where I grew up which was a nice little dip back in time for me! In the afternoon we did a food shop (bit of a nightmare with two in the trolley!) And went to another new park!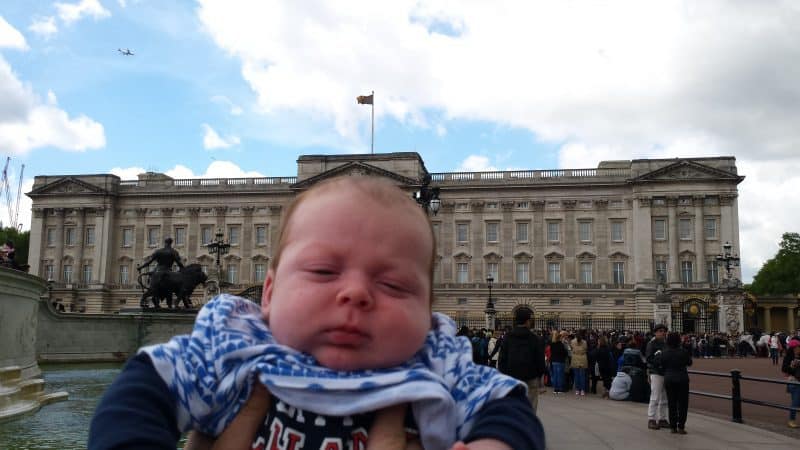 Monday seems to have disappeared from memory, I did however get a gorgeous new Radley changing bag delivered! I think we may have gone to the park but I genuinely am not certain! On Tuesday I travelled up to London with Arlo (Athena was at nursery!) for brunch with my friend Emily. She met me at Victoria and stupidly we decided to walk past Buckingham Palace during some ceremony or other and got stuck in some huge crowds, and had to wait for ages to be allowed to cross over to be on our merry way! Arlo wasn't that impressed by the experience! The reason for being in London in the first place was to go to the BabyMoov launch of their new changing bags! I will do a proper post on that later, but I came away with another amazing changing bag! On Tuesday evening Sams Sister and her boyfriend came round for dinner as they were flying out of Gatwick the next morning and were in the area! Simon pretended he didn't know what to do with a baby but actually seems like a natural!
On Wednesday morning at around half past three Athena realised she could open the door to her room and we found her crying in the hallway in the pitch black! She did go back to bed after about fifteen minutes of coaxing! She had a three hour nap too after a park visit and a weigh in at the clinic (Arlo is 12lbs and Athena is almost 14kg… not even sure what that is in lbs but she's bloody heavy!) My mum arrived with a giant ladybird tent too, it fills half the living room and is a bugger to put back in its bag!
We visited a new playgroup on Thursday morning which was fun and is a two minute walk from home which is always handy! We spent some time in the front (shared) garden, and someone spent a lot of time picking up clods of mud and not wanting to go inside… Athena was pretty testing in the afternoon, not helped by Arlo feeding constantly! Bed time went fine but at half ten Athena reappeared and didn't get back to bed till half midnight, during which time Arlo woke up too of course! I felt shattered and got little sleep that night so…
Friday was a lazy day! Athena got out of bed earlier than usual, especially considering she was up for two hours in the middle of the night! Thankfully Sam was off work so we just had a bit of a lazy morning, and I placed a Zara order to make myself feel better about being shattered (all kids clothes, ridiculously!) and then in the afternoon we walked to pick our car up from the garage after its service. It's a bit of a trek but we tried it with Athena walking, she lasted a while before going onto Sams shoulders and then into the Manduca on my back (Arlo was in the buggy, which makes a change!) We then drove to Chichester for a little browse in Homebase and dinner at Pizza Hut because nobody could be bothered to cook!

On Saturday the little people and I walked into town to visit the parcel collection point and to buy some stain remover, so glam. Though I did get Athena a floral baseball cap too! She fell asleep on the way home in the buggy, which wasn't surprising as she appeared at the foot of our bed at 5.50am and never went back to sleep (god bless Cbeebies for keeping her in bed until a more acceptable 7am)
Arlo had another swimming lesson in the afternoon, fell asleep promptly afterwards and woke up half way round Tesco's wailing, so I had to cut the shop short before I'd reached the Ben n Jerrys aisle! Tragic. I'm now sat semi watching Eurovision and writing a list of everything that I probably won't achieve tomorrow.
Have a lovely week everyone, I'm looking forward to a lazy Tuesday (Athena is at nursery and I have made no plans apart from napping with Arlo) and a semi lazy Wednesday as My mum is taking Athena out for the day!