Sunday was Mothers day and I was treated to waffles in bed (the first batch with bacon and syrup and the second with chocolate philadelphia… yep I'm a fatty!) along with some Lindt chocolates, some pregnancy smellies and a card from Athena and one from Athena and the bump via Sam! I was super impressed as last year I got a bit fat zilch!  Sadly Sam headed off to Milton Keynes for a snowboard session for the rest of the day but in his defence we were welcome to come along I just didn't want to sit in the car all day! The plus side is he qualified for whatever it was he was trying to qualify for so yay!
London was the name of the game on Monday, Athena and I headed off on the train with my mum for a delicious and high altitude lunch at Duck & Waffle, and then a little stroll to Spitalfields market. Sadly that was about all I could manage so we headed back to London Bridge station around 3ish to head home. Athena got a bit crotchety on the train home (after being super delightful and falling asleep on me on the train up!) so I did feel a little bad for the other passengers! I'll perhaps write about Duck & Waffle separately in another post, as it was an experience, but because I was entertaining Athena I didn't really take any proper photos!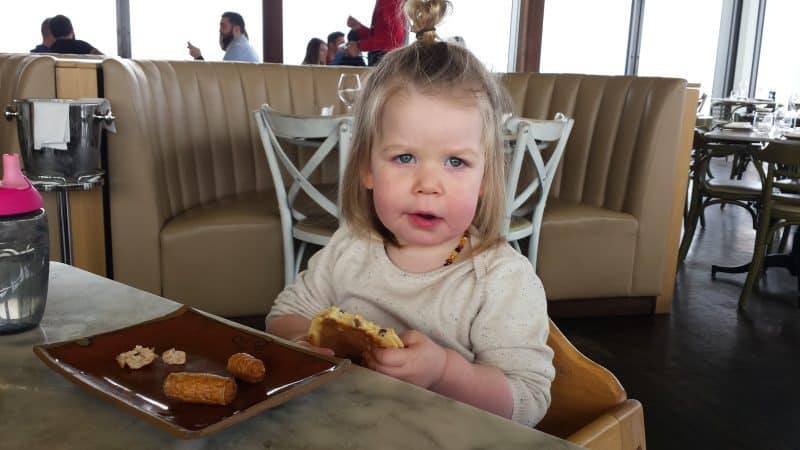 On Tuesday Athena was at Nursery, I nipped to the post office to pick up a few parcels I had the dreaded red slip of doom for from being in London and then bumps new wheels arrived in the afternoon from SIlvercross! How stunningly gorgeous is this Pioneer? It's love already, I've taken Athena out in pushchair mode a couple of times and she looks so comfortable in it, plus the shopping basket is HUGE!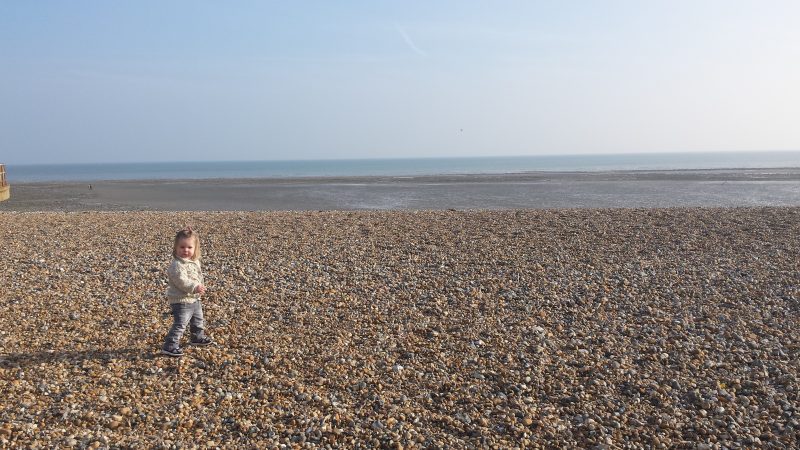 On Wednesday after nap time (both of us, a dream!) we strolled very slowly into town and for a walk along the seafront. Athena had a lot of fun in the Bob the Builder ride (even though I never put any money in it, she's easily pleased!) and as ever loved to fling the pebbles around!
We walked Athena to nursery together on Thursday then carried on into town for a cheeky cooked breakfast at Wetherspoons and then had a little stroll round the shops before heading home to do a few boring home things and quite a lot of watching 'Unbreakable Kimmy Schmidt' on Netflix!
Friday was a 'get allll the toys out at once and then play with the shoes instead' sort of day until Athena fell asleep on the sofa! Very rare, so I transferred her to her cot for a nap and then we had our friend Karina over for lunch and a nice catch up in the afternoon. I turned 38 weeks pregnant too, and boy am I feeling it! Oh and no sign of the eclipse so we watched on the telly, it was so cloudy and I might have been looking out of the wrong window for all I know!
Saturday I got all muddled up with and the plans I thought I had for Sunday were actually on Saturday, so I headed off to meet up with Hannah and Chelle and their little ones, Athena was a bit crotchety as she'd not napped and obviously didn't want to just sit down with us and kept hurtling off round the place! It was lovely to see Hannah who was down visiting from Yorkshire and Chelle who's little boy froglet had just started crawling about the place! After that I headed home, picked up Sam and our old TV and took it to someone who had bought it, then headed to our friends house for a playdate and to discuss our holiday next January! hurrah! Dinner back home with friends finished the day off nicely!