Finding a pair of comfy, durable, stylish winter boots is always a task and a half. Will they rub? How high is the heel? Will they cope with wet weather? The list goes on, and considering I do a fair amount of walking so although how a pair of boots looks is important to me they need to be comfy first and foremost. Just after Christmas I was sent a pair of boots from GANT that ticks all the boxes and I've been wearing them ever since, on school runs, country walks and city shopping trips.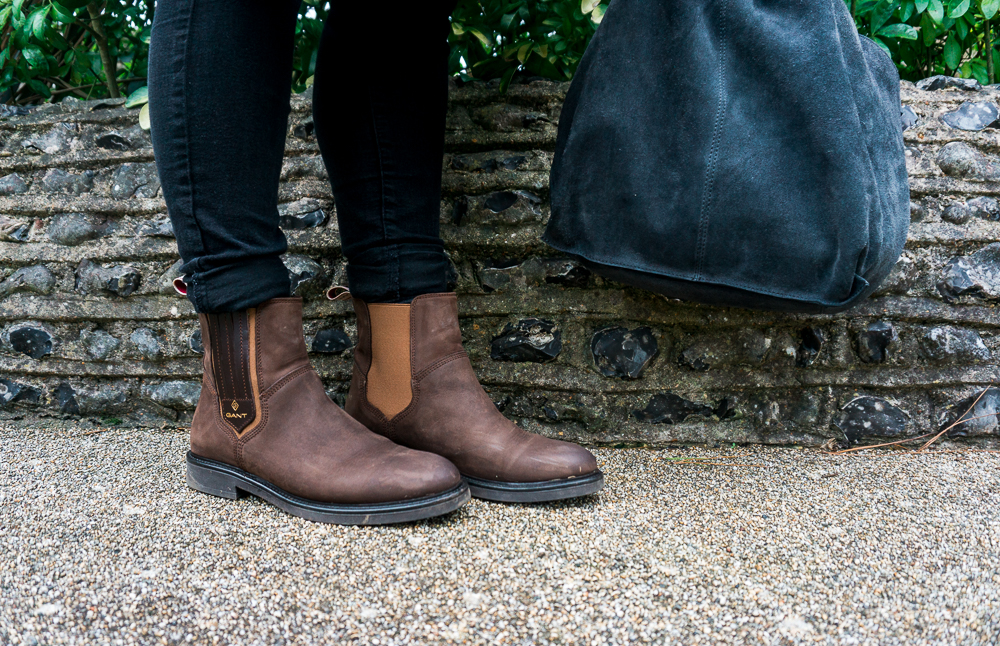 They look just as good with jeans and a jumper as they do with tights and a dress. I love chelsea boots as I hate faffing with laces, being able to pull them on in an instant is perfect for me, especially when we're running short of time in the mornings because I've spent five minutes getting Arlo to put his own shoes on! They also remind me of the riding boots I used to wear all the time when I was younger and had ponies!
I think the shape of the elasticated sides is really pretty, and the added leather detailing on the outside, in a contrasting colour that stretches as needed is the perfect finishing touch. I've worn these in wet weather too, and although the nubuck upper got darker in the rain they dried nicely back to their normal chesnut brown shade, though I have sprayed them with a nubuck protector spray and will try and remember to use my nubuck rubber brush on them every so often too!
I think I can finally retire my very old, worn leather ankle boots which have been re-heeled twice in favour of these, with a  chunky rubber sole they'll be suitable for any terrain and won't be wearing down in a hurry either! GANT also do a really comfy looking 'trainer boot' for want of a better word to describe it, with a flat sole and different shaped side vents, that also look incredibly comfy and a bit lighter too. See the full range of footwear from GANT on their website here, as well as smarter shoes, sneakers and rubber boots, plus of course all their clothing too!