Hello! Long time no see, or it feels like it anyway! I didn't do a Sunday Scrapbook post last week as there wasn't a great deal to report that I wasn't already writing about and I just sort of fancied a week off! We went to Wakehurst with my mum last weekend for her birthday and had a few days away in Oxford and I shared that here. This past week seems to have flown by, the summer holidays are over half way over now though I can't say i'm too annoyed about that as I want to settle in to the new normal of school runs and routines. Talking of routines its suddenly dawned on me that the lack of wardrobes in the kids room (and ours!) means that I can't neatly hang a uniform out for each day for Athena so I just panic bought three wardrobes, one each for the kids and one for our room. At the moment we all get by with just chests of drawers as we have a large cupboard with hanging space in the hallway but it's a mess and I don't think I've worn anything out of it since we moved in 18 months ago! I have this (probably unrealistic) idea that I'll get everyone's clothes ready the night before to make mornings easier… including mine! But we shall see! I'll keep you posted if I do suddenly reach the dizzy new heights of an uber-organised mum!
On Monday morning I woke up refreshed and full of energy after a full nights sleep, as I'd had a night away from the kids and Sam at the Dorset in Lewes. I was invited to stay for a night and after a couple of days away with the kids the previous week I was more than happy to head off on my own, though the Dorset does have a lovely spacious room we would all have fitted in I chose to be selfish! Lewes is such a picturesque little town and the Dorest sits at the East side of town, easily accessible from the road or a short walk from the train station, plus free parking on Sundays and after 5pm in a car park opposite! The patio area was full of families and chatter when I arrived, which was lovely! I was shown to my room by one of the team and once I'd settled in and had a cup of tea I went back down stairs to enjoy a Sunday roast and my book. I tell you now, the glory of eating a meal on your own with only a good story for company is one you cannot appreciate until you have a child, especially a meal out of the house as eating out with little kids just isn't that relaxing! I picked the Nut Roast as it sounded so delicious and wasn't disappointed! Crispy roasties, a fluffy yorkie and loads of fresh veg with a gravy laden, generous slice of nut roast. It was amazing and exceeded my expectations! Once i'd finished a cheeky glass of cider I headed upstairs and got three solid hours of work done before having a shower and hitting the hay for a solids night sleep! Although the Dorset is a pub, on Sunday nights they close at 9pm so there wasn't a peep of noise after that at all!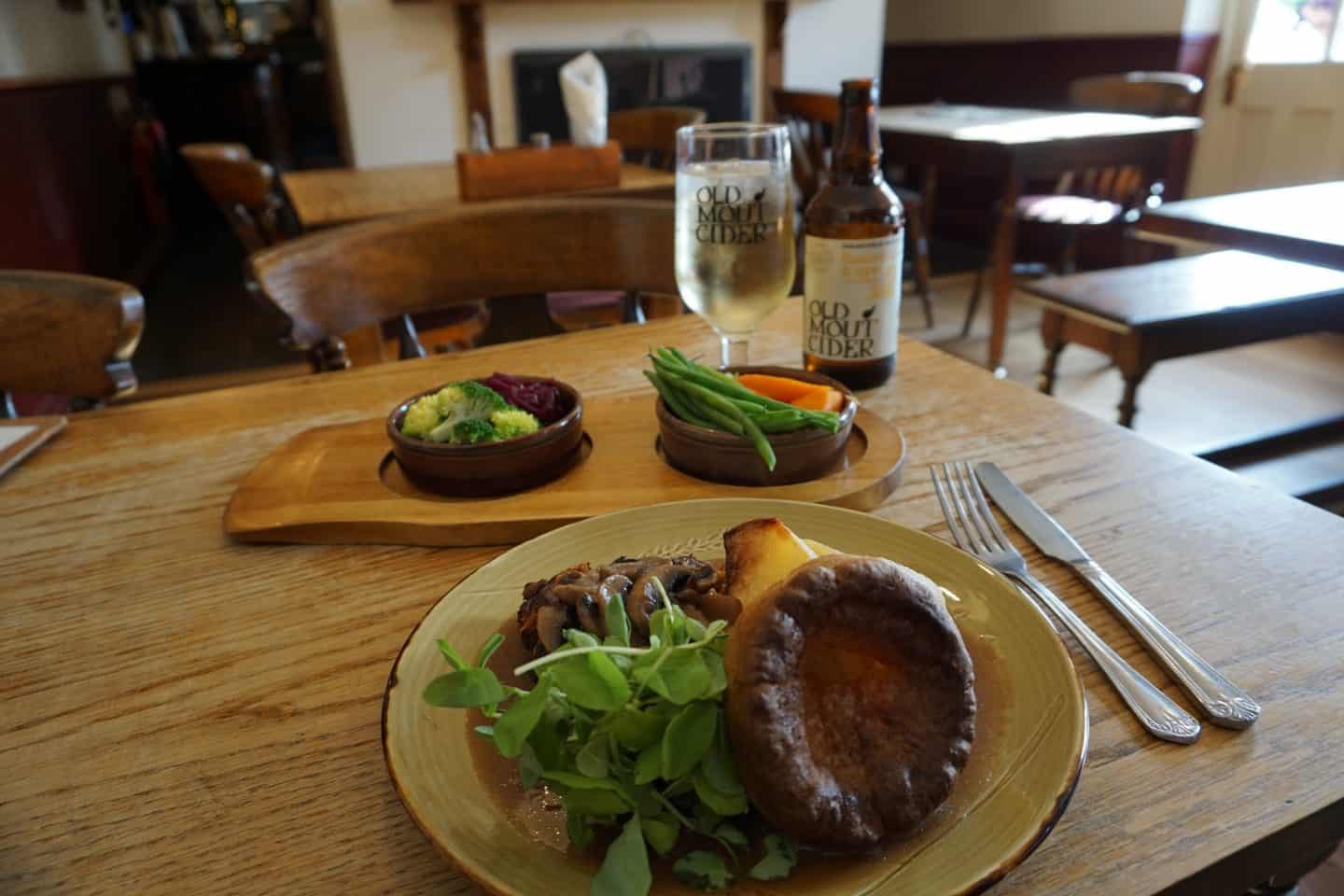 In the morning I had a leisurely breakfast, again choosing the veggie option of a poached egg on a potato rosti with spinach and beans, and that too was really tasty! I was going to have the full English but this just jumped out at me from the menu! Whilst that was being cooked I was brought toast and helped myself to cereal and a yoghurt from the continental buffet, and offered tea. Chelle came to meet me too and it was so nice to chat to her without distraction of small people! Sadly though I had to head home so Sam could head off to work at lunch time but it was good whilst it lasted! I'd recommend a night or two away there to anyone as a getaway, it's the perfect location for exploring the local Sussex countryside and so much nicer to stay in an ancient pub full of character than a boring branded hotel!
On Tuesday after we'd dropped Arlo off at the childminders I took Athena into town to get her hair cut FOR THE FIRST TIME EVER! And although she didn't sit still at all despite me holding her head in place the poor hairdresser actually managed to get it quite neat and she had 5 inches off! It's still pretty long but she has blunt ends now rather than the gorgeous long-but straggly V shaped ends she had of all her baby blonde hair… I'm still a bit sad about it as she's now mostly mousy-brown but hey ho! It's easier to wash and brush now too.
Both kids were at the child minder on Wednesday so I hurtled through work but I'm still struggling to keep on top of everything (my blog is the one that's falling behind though) though I did order my new phone as it's upgrade time, it should arrive tomorrow! The rest of the week we spent in Brighton but I'll share more about that soon! However Sam and I had our first night way from the kids together (Cheers mum for looking after them!)
Then last night we had friends to stay as they were visiting from Bournemouth. We headed to the food festival on the seafront for dinner and it's now Sunday morning and we spent a couple of hours trying to keep the kids out of the room where they were asleep! I'm hastily writing this up in the hopes we can go and trudge around in the woods to wear the kids out for a bit! Wish me luck!