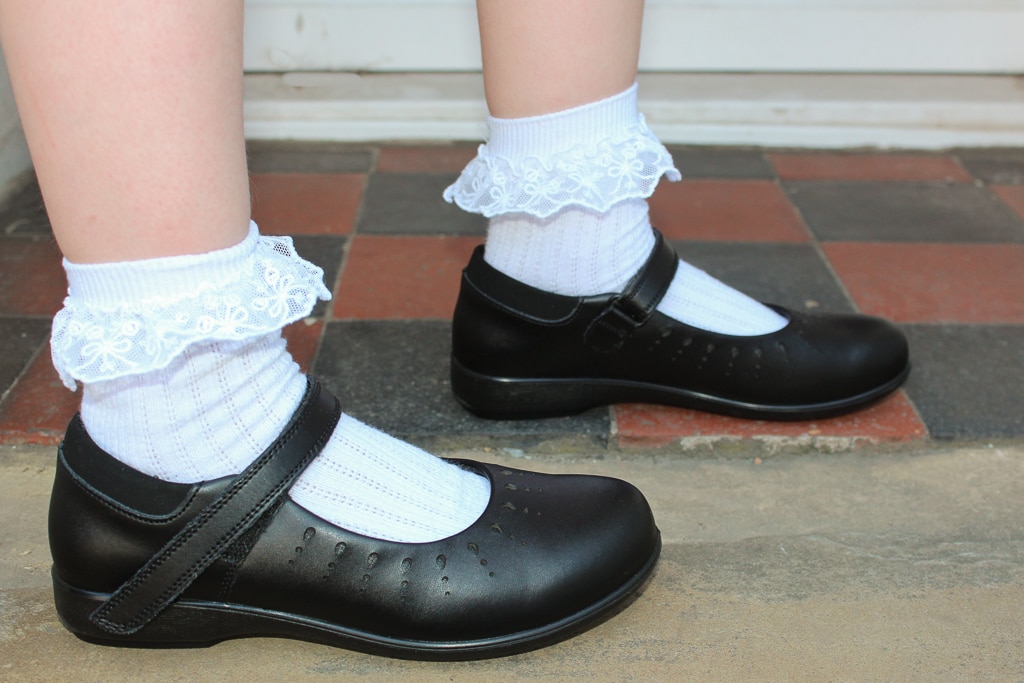 Although school  seems like a distant memory  for Athena it's only a matter of weeks  until she's back  at school, a new junior school in fact!  So that means new uniform, bag and shoes! This year she'll be wearing Treads 'Alberta' shoes, which are a leather mary-jane style with a velcro strap, which is her preferred style. Treads  only make and sell school shoes and have a variety of styles, from lace up brogue styles, T bar shoes and more casual 'trainer' looking styles too. Treads are very kindly giving ANY pair of their shoes  away to one winner of my giveaway too, that's at the end of this review.
The shoes have a leather upper, reinforced seams and stitching and a flexible sole with lots of grip. Athena is notoriously hard on her shoes, she once ruined a pair of Dr Marten boots when she was 4 and only in reception, completely scraping through the leather on the toes  – how she did it I have no idea! But Treads have a 12 month indestructible guarantee, which means that if your child manages to ruin them you can get a replacement pair (of the same size and style) from Treads. Treads must have a lot of faith in their shoes to promise that, so they must be sturdy and reliable!
The padding round the back of the heel and the velcro strap make the shoe really comfortable and easy to  wear – although the velcro strap is looks quite long. Athena doesn't have particularly narrow feet but the velcro strap comes down to the sole of the shoe as you can see in the photo above, which might mean it gets scuffed, soggy and untidy but time will tell!
If you're not sure what size feet your child has you can either order a size  gauge for under five pounds so you've got one forever more, or you can use the printable foot size chart and calculator on the Treads website – which is what I did to check Athena's sizing, which worked successfully!
Treads styles all have dual fit technology, which lets you customise the width easily.  Shoes are a standard – this allows you to customise your fit easily.  You can change the shoe from a regular width fitting to a wide one by removing the base insole (under the main insole) which is handy for kids with wider feet.  You can also purchase specific inserts for narrow feet on the website too should you need them.
Reasons to shop with Treads:
12 Month indestructible guarantee
Free Delivery
Free Returns
30 day satisfaction guarantee
For your chance to win any pair of shoes from the Treads website you can enter using the form below:
*Giveaway is being managed by Treads, who will pick and contact the winner directly via email after the closing date which is 14th August at 11.59pm.