Drusillas Park is somewhere we really love to visit as a family, as it has enough to keep us busy for the whole day, with so much to see and do. From rare animals to soft play with so much between it really is a great place for a day out! We were invited to visit this week to coincide with the recent opening of their new ride, the Rainforest Carousel. This new addition is so much fun, as there are over 30 different animals to choose from that gently rise up and then down, on a traditional style carousel. The top of the carousel itself is really beautiful, including looking up when you're riding around on an animal!
A lovely addition is the accessible turtle for wheelchair users and the less able, and a spinning snake basket for those who don't want to go up and down, or perhaps wouldn't be able to sit upright on their own. Adults can either sit on the seats with their child on the 'two rider' animals or can stand on the inside of the ride as it is operating.  Each animal has a waist strap to fit both riders for added security, and there are little foot-holds to help smaller riders get on the taller animals. It's such a great addition to the selection of rides at Drusillas Park, and is located opposite the Starbucks coffee kiosk outside the Explorers Cafe.
We went on the Rainforest Carousel at the start of the day, and ended with a couple more rides on our way out of the park too, it really was a big hit with my two – getting to ride on a Dolphin, a tree frog, a Sloth and more! Add these animals to the Flying Cheetahs and the Flying Hippopotobus, the three rides in Hello Kitty Secret Garden and the Safari Express train and you've got a lot to do even without adding in the play areas and all the animals!
Another great thing that Drusillas Park does is give kids the chance to meet some of their favourite characters throughout the year. In April you could meet Peter Rabbit, as my kids did and loved him! Athena asked him what he was up to for Easter!! Also this month were the PJ Masks characters, Hey Duggee and Hello Kitty herself!  Peter Rabbit appeared at a few times throughout the day to meet kids and pose for photos, the times are displayed on the way into the park, we snapped a quick pic so we could refer to it, and managed to arrive to be almost at the front of the queue! The characters appearances are in the events arena, where the railway station is, along with a shop, donut shop, lots of picnic benches and even Panning for Gold! The kids had never done it before and despite Athena covering her front and feet with water she loved it! You can spend as long as you like panning for 'gold' sifting through the wet sand with a pan to find it! You then collect the gold in a little bucket and when you're done exchange it for a medal! This activity has an extra charge, which was £8 for both kids.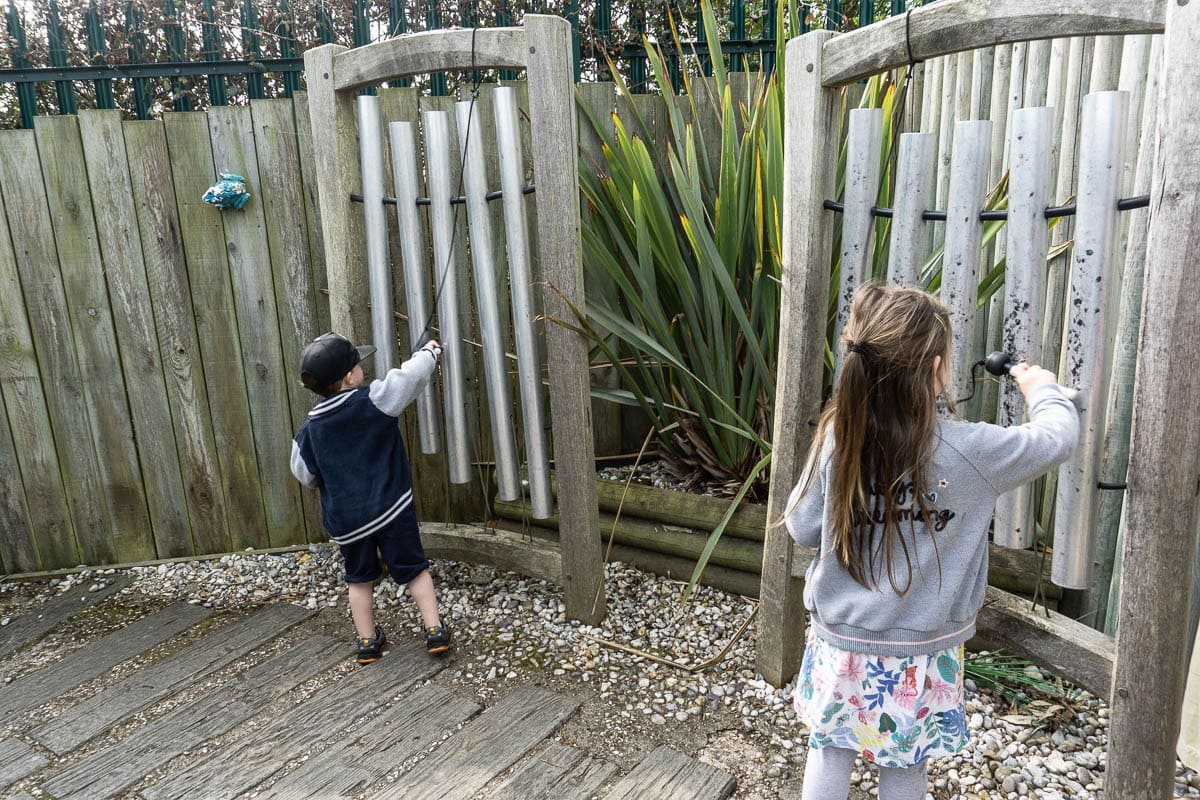 We also visited the Edens Eye Maze, which is looking a little tired these days but when we went at Halloween last year was full of people spooking us and jumping out to scare us! The kids love dodging the spurting water and making noise on the chimes though! Then we went and are our picnic lunch at the play areas, which are insanely fun – we always have to drag the kids away as they want to stay there all day! There are ladders, slides, climbing areas and so much more. It was a lovely sunny day when we went too and people were even whipping off their clothes of r ago in the splash pad area! On colder or rainy days there is an indoor soft play too.

Once we were full and a little tired out from lots of playing we walked through and look at all the animals, and as the kids were a bit less energetic than they were in the morning it meant they were slower to walk round and we could chat more about the animals, as well as do some of the Zoolympics challenges! Arlo actually got up to 22 seconds on this one, very strong little arms!
We spotted a porcupine basking in the sun with some meerkats scuttling about, plus some super cute monkeys! The Flamingos are always a favourite with Athena, mostly because they're pink but also because she likes to try and balance on one leg with them!
We also visited the Lorikeets to feed them some nectar, although it had been so busy that morning that some of them were full up! We found a beautiful bird that was still peckish though and the kids loved getting up so close to it! Next was a stroll through the Lemur Landing, I could sit and look at them all day! They're just so full of character! Look at the way they sit! We happened to be the only people in there so we had a good long chat with the zoo-keeper who pointed out the 'matriach' of the family and explained about their breeding program.
As always we had a brilliant day out at Drusillas Park, and we wouldn't hesitate to recommend it to anyone with kids! Drusillas is about a 20 minute drive from Brighton, located on the A27. It is open all year round apart from 24th/25th/26th December and there is plenty to do undercover (including soft play) so still perfect for a rainy day visit. The opening times and special event dates can be found on the Drusillas Park website, along with an interactive map so you can plan your day.