Rockin Baby is one of my go to brands for kids clothes, both for my own kids and for presents for new babies! I first discovered them when I was sent on of their awesome ring slings, and found out a bit more about the company ethos. They donate like for like clothes and slings to mamas who wouldn't be able to afford them otherwise. I've now bought things for us and others, knowing that I'm helping others out at the same time, their mantra is  "You buy. We give." and I think that is awesome.
I asked the owner of Rockin' Baby, Kathryn a few questions about her and the company:
1. When did you know you wanted to create something to help children and their mothers in other parts of the world?
I knew that when I was looking at buying the baby carrier business, Rockin' Baby Sling, I wanted it to make a difference in the lives of others. I bought the business in January, 2011, and changed it to a One-for-One business, but also took the word Sling off of it…I wanted to make sure I could expand the product line in the future.
2. What has the biggest struggle been since setting up Rockin' Baby?
Definitely growing a business, while not being able to be passionate about the mission every step of the way. While we stay true to our Mission, it is something I wish that I could do every moment..one day…one day…I hope that will be the case!
3. What is your work/life balance like? Do you get your family involved in the business too?
Family always comes first. That is how I balance work and life. If I know they are happy, then I can make sure that I get it all done. It may involve me working crazy hours, and a crazy schedule, but I do know that I have a relationship with the children, and they love being a part of what Rockin' Baby is doing. They are very proud of the company and its' Mission. I have involved them in all aspects of the Giving, as well as them understanding the Retail side of the business, too…they definitely feel a part of it!
4. Where do you see Rockin' Baby in 5 years time?
I see Rockin' Baby as a common household brand. One that is recognized as the Giving Brand for Mothers and Children!
I really think that will be the case, the clothes are all amazing, with new styles and designs coming all the time.
Athena and Arlo were also sent something each from the new collection, which is gorgeous and full of different prints and styles! Athena would live in PJ's if she could and loves getting into them when she gets in from preschool. The Rockin Baby PJs are super stretchy  (for pre-bedtime yoga) and the cotton means they're light and breathable. They've not shrunk in the wash though we only wash at  30 degrees. The fun print has lots of bugs and butterflies on and Athena likes to show Arlo what each type of bug is!
Arlo was sent the rain poncho in a gorgeous nautical navy and white stripe. It packs up into a pocket so it can easily be left under the buggy or in a change bag and when it's on the pocket can be used for whatever bits and bobs your little person likes to pick up! Easy to put on with poppers under the arms and at the neck down the front it will fit over whatever they're wearing and keep them and their head dry in a shower! I love that the poppers are bright yellow too!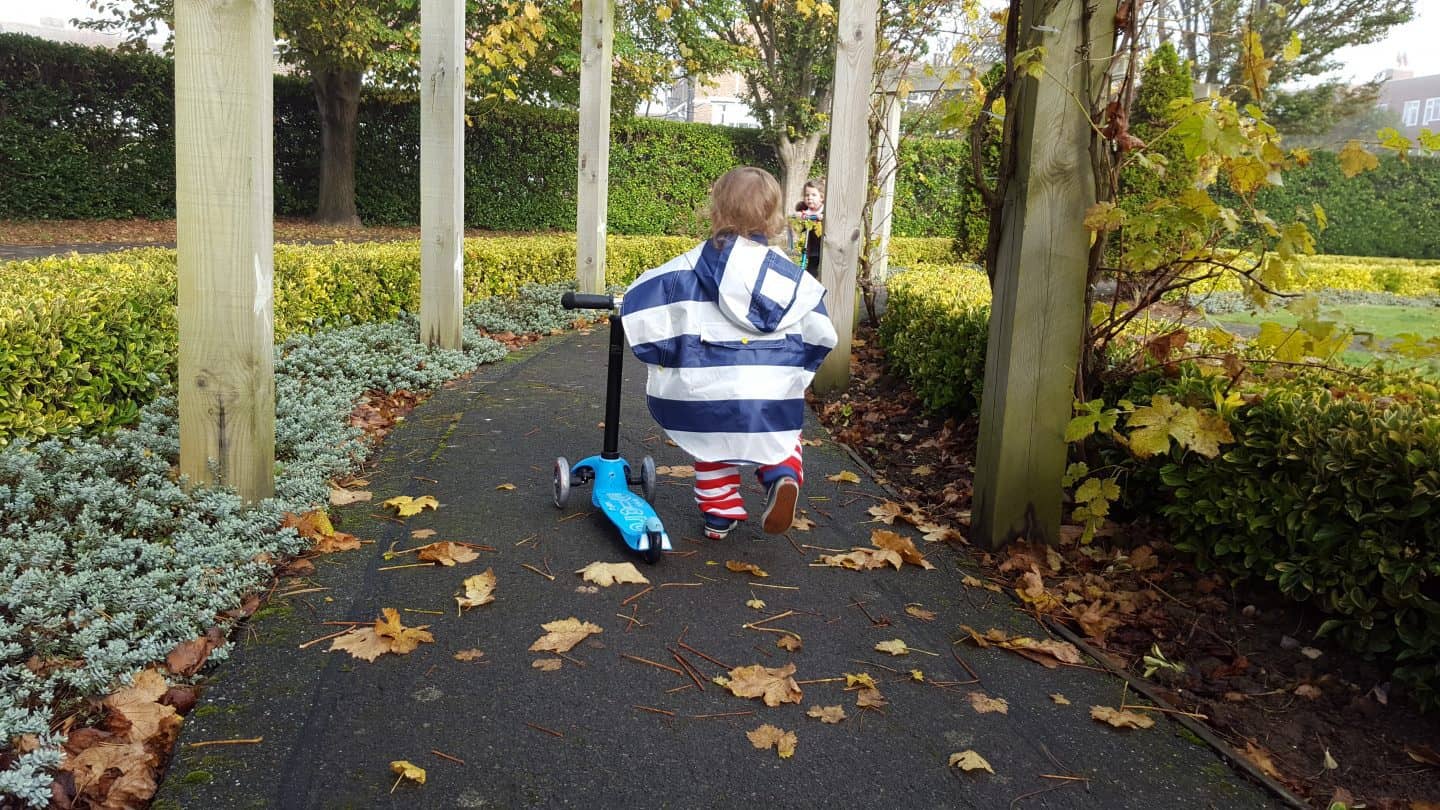 We were sent these clothes to include in this post, and I'd like to say a big thanks to Kathryn for taking the time to answer my questions, she's a really inspiring mama!