The pandemic has triggered a surge in sales of paint and DIY supplies, but not everyone has the time or energy to commit to revamping and renovating their home. If you're working or you're trying to master the art of home-schooling, and your schedule is packed, here are some hacks to help you achieve magical results with minimal effort. 
Call in the pros
Many people love DIY and they've been able to rediscover a love of decorating and being creative around the house as a result of having more free time during lockdown. Sadly, this is not the case for everyone. Some people dread the prospect of being left alone in a room with a roller and a tin of paint, while others are rushed off their feet with no time to devote to sprucing up the living room decor. If you find yourself struggling to juggle looking after kids and working, or you're not a keen DIYer, the best thing to do is to call a professional painter and decorator. It's more expensive than doing the job yourself, but it means that the task will get done faster and you can make the most of the free time you do have available. Experts also tend to achieve better results with a superior finish and a lower risk of stray drops of paint. 
Image by StockSnap from Pixabay
Accessorise
If you're keen to freshen up your interiors, but you don't want to embark upon a full-scale decorating operation, accessorising is a brilliant idea. You can alter the theme of a room, inject different colours or add interest simply by buying new accessories and focusing on the finishing touches. From lamps, vases, framed pictures and plant pots to cushions, rugs and throws, you can use accents to experiment with colour, try new trends and lift bland, drab walls. Consider the impact of a vintage mirror, velvet cushions and oversized glass vases with floral bouquets in a romantic formal living room or monochrome rugs and blankets, plants in patterned pots and black and white wall art in a modern, minimalist home office, for example.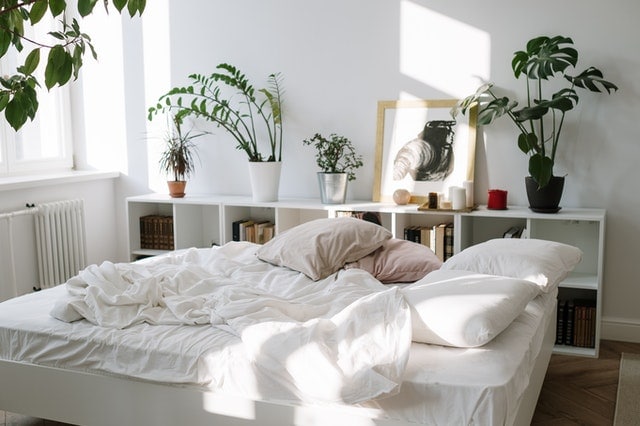 Image by StockSnap from Pixabay
Change the focal point
One of the simplest and most effective ways to revamp your interiors without blowing the budget or spending hours in overalls is changing the focal point of a room. You can do this in any space by creating a statement wall, investing in an eye-catching piece of furniture or making the most of a characterful feature, such as a fireplace. Use a bold shade or printed wallpaper on one wall to turn heads in living rooms, bedrooms, bathrooms or kitchens, or celebrate a wood-burner, an open stove or a stunning rustic mantel in the dining or living room. You could also use a mirror or a clock to bring a fireplace to life or lift a modest, understated room with a fabulous piece of furniture. Think a retro armchair or a coloured couch in the snug, a bespoke headboard in the bedroom or a decadent tub in the bathroom, for example. 
Many of us have been inspired to update and refresh our interiors during lockdown, but it's not always easy to find the time or summon up the energy to complete the to-do list. If you're looking to achieve magical results with minimal effort, why not call in the pros, embrace accessories or alter the focal point of your rooms?
Collaborative post.