Brighton is amazing, I love it as a city so much; it's vibrant, unique, there is so much to do and I'll never get bored of it. It's just a shame that having kids meant we were priced out of the market when it came to buying in the city! I lived right in the city centre for most of my 20's; opposite the train station and on Gardner Street opposite the Komedia and I adored the hustle and bustle. I think now that I have two small people in tow living in a smaller town is a lot less stressful that dragging them through the city to and from school would be! When Jurys Inn asked if we'd like to be Brightonians again for a couple of days this Summer of course I jumped at the chance! We rocked up to the Brighton Jurys Inn which is just behind the train station on a Thursday afternoon and used our room as a base to explore for a few days! Lots has changed in Brighton in the four years since we moved, including the development of the 'New England Quarter' which is where the Jurys Inn is, so it was a great opportunity to explore that part of the city, one that most visitors might not think about if they stayed in a hotel on the seafront (though there is a Jurys Inn there too now!)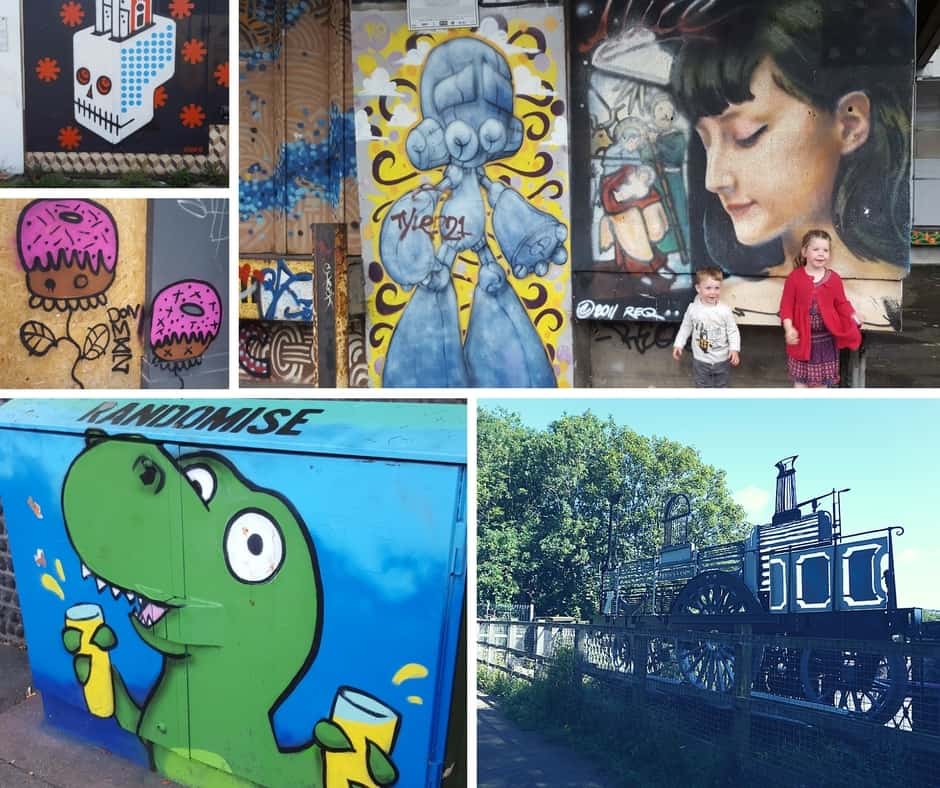 So here's my list of things to do that are free or cheap if you're spending a few days in Brighton
People watching in the Pavilion Gardens. Brighton is the perfect place for a spot of people watching. You'll find people from all walks of life in Brighton and most of them seem to walk through the gorgeous Pavilion gardens past the picturesque palace each day! Grab a drink (Shakeaway is round the corner, I took the kids there for a milkshake on our visit but there are loads of coffee shops about and even a café in the gardens) and find a patch of grass, plonk yourselves down and chill out! There is normally a busker around for a bit of musical entertainment too. If you want to be a little more secluded then make your way round to the other side of the Pavilion where it is a lot quieter as it's a dead end – though in the winter this area becomes an ice skating rink!
If you've got kids then the Level is worth a visit. There's a great kids play park with lots for all ages plus a splash about area with fountains for older kids and two smaller areas for babies and toddlers. Both these are free of charge. You can also watch the antics of the talented skateboarders in the skate park, they whizz around it at crazy speeds!
Urban Art Spotting. Brighton is FULL of art. I've always been a little bit obsessed with the graffiti in Brighton, from the huge masterpieces covering whole walls in the North Laine to the tiny little ones you could easily walk past. Most telephone connection boxes have something fun on them too! Then there's the installations, like the amazing 'Ghost Train' that sits atop an old unused train bridge and is lit up at night, which forms the end of the Brighton Greenway, which is a walkway that leads from Preston Circus down to the main train station, it's a great direct route and avoids hills too!
Brighton Toy Museum, Brighton Museum (opposite the Pavilion) Booth Museum are all good ways to spend an afternoon, and the latter is free to get in. It's a quaint old building full of insects, birds and animal skeletons! There's a lovely park opposite too with an open air theatre if the weather is nice. I took the kids to the Toy Museum for the first time during our stay in Brighton and they adored it! They stood and watched the toy trains running round the tracks for ages, then pointed out all the cars they recognised from the masses of toys on display, and got a little bit creeped out by the vintage dolls too! This is right beneath the train station so really central and very close to the Jurys Inn too.
Browsing Flea markets, North Laine and the Lanes. I could easily while away a whole morning perusing places like Snoopers Paradise in Kensington Gardens (loads of different stalls selling everything from vintage books to reworked lamps and weird 80's string art!) and there is a Saturday outdoor flea market on Upper Gardner street too, where you can find a huge variety of things. For vintage clothes browsing check out 'To be worn again' and for bling have a wander round the Lanes (the ones closer to the sea!) for an ogle at all the gorgeous old rings, necklaces and watches! Fun Fact: Both our wedding rings were designed by us and made in the Lanes – just at different jewellers!
Then of course there's the obvious ones like a Seafront stroll, a Pier perusal and Marina meander…
Our few days in Brighton was just perfect, especially as we were close enough to home for me to drop the kids back at our house with my mum for the night on Friday so Sam and I could have a proper date night on Friday! Our room had a double bed and a double sofa bed so we were all comfy and had plenty of space. I was impressed with the feather duvet too, so soft and snuggly! Once I'd got the kids to sleep on Thursday night I had a lovely hot bubble bath and read a good chunk of my book- Perfect!
In the morning we headed down to the Oddsocks restaurant for breakfast, and boy was it a good one! I knew that Jurys Inn puts on a good spread as we'd experienced it at Oxford a couple of weeks ago, but the buffet was all closer together at the Brighton hotel which made having breakfast with two kids on my own a lot easier as I could see our table wherever I was. Also this hotel had a PANCAKE MACHINE. Seriously, it was the best thing ever, you just pushed a button, popped a plate at the end and in less than a minute a hot fluffy american style pancake plops out, ready to be covered with lemon juice, jam, syrup or whatever you fancy really! The kids loved them, as did I! Of course there is the normal array of cooked food, porridge, cereals, pastries, fruit and cold meats. I was impressed to see a designated area for gluten free diners too in the corner, with GF cornflakes, bread and some soya milk for anyone requiring dairy free. The decor in the restaurant was fun too, and very Brighton! In fact the whole hotel was way funkier than I expected it to be, and it really makes all the difference when your whole experience from check in to check out is a proper experience! There was a display board up in reception with local information, including personalised recommendations from the team on what to do in and around Brighton- all with a 'green'/environmentally friendly theme.
Once I'd palmed the kids of on Nanny I nipped back to Brighton on the train for a little bit of retail therapy (Which is always more enjoyable child free!) and then Sam and I got ready for our date night! We had grand plans to have dinner at the restaurant and then head into town for drinks but Sam was exhausted after an 11 hour shift at work and I was exhausted after having the kids solo in the city for two days! So instead we decided to relax in the Oddsocks bar with a cocktail each before a leisurely dinner and and drinks! The Menu at Oddsocks was as fun as the decor, and the staff… who were all really lovely and chatty (shoutout to Marcus our waiter who was awesome) and all wore odd socks! It took us a while to realise but once we did we were looking at every team members feet to see what socks they were wearing which probably made us look a little odd but I'm sure they're used to it!
To keep the Brighton theme going Oddsocks had sourced local produce, like sausages from the Brighton Sausage Co and Brighton Gin, which I had and loved! I need to track a bottle down for consumption at home I think! Sam had a Pina Colada which came in a very funky bronzed pineapple! We each had our own starter then shared a chicken and extras for a main course. I had the homemade scotch eggs which were SO good, cooked to perfection and with a slightly runny yolk – spot on! Sam chose Calamari rings which came with a dipping pot of paprika mayo, which he devoured in minutes!
Our whole Rotisserie Chicken was a sight to behold – arriving with two 'rubs' ( Maple syrup & Lemon and Rosemary & Thyme butter) because we couldn't decide on one we both wanted, we also had chunky chips, stuffing, coleslaw, corn on the cob and gravy and we greedily added a side of cauliflower cheese too. It was so nice to sit and chat whilst picking bits off the serving tray, comparing the rubs, arguing over stuffing balls and generally have a really relaxed time (we didn't miss the kids at all, a meal out without them is a treat in itself even without fantastic food and drink!) We decided to continue the sharing theme and had the Picnic Pudding to share, which was perfect for us, we had a white chocolate milkshake each, I scoffed the whole chocolate brownie with caramel sauce and Sam hoovered up the Strawberry Eton Mess! Our waiter Marcus was chatty and friendly and really attentive and we had a good laugh with him, plus he didn't know we were reviewing the hotel and restaurant till it was time to pay the bill – so he was genuinely great at his job and as asset to the team!
The next morning we had no child-shaped alarm clock so slept in till 8am (may not sound like a lie to to a non-parent but compared to my normal pre-6am wake up call it is) enjoyed a cuppa in bed to wake ourselves up slowly then headed down for breakfast! We both did the healthy (ish) thing and tucked into museli, yogurt and fruit but neither of us could resist a syrupy pancake before we headed off for a stroll round town together, like the good old days where we'd wander round town in the mornings unrestricted by kids, buggies and grabby little hands! I mean don't get me wrong I love my kids more than life itself but it was SO nice to spend some time as a couple together for once! The Jurys Inn was the perfect place to do it too, and we've both agreed we'd love to go back and stay again as we felt so refreshed by the time we left! After staying in our 'home' hotel and experiencing the luxury of the Oxford Hotel a couple of weeks ago with its pool facilities and Marco Pierre White's restaurant it's really changed my opinion of Jurys Inn, in my mind they were more suited to business guests but we've had a great family stay and a perfect experience as a couple on a weekend break too!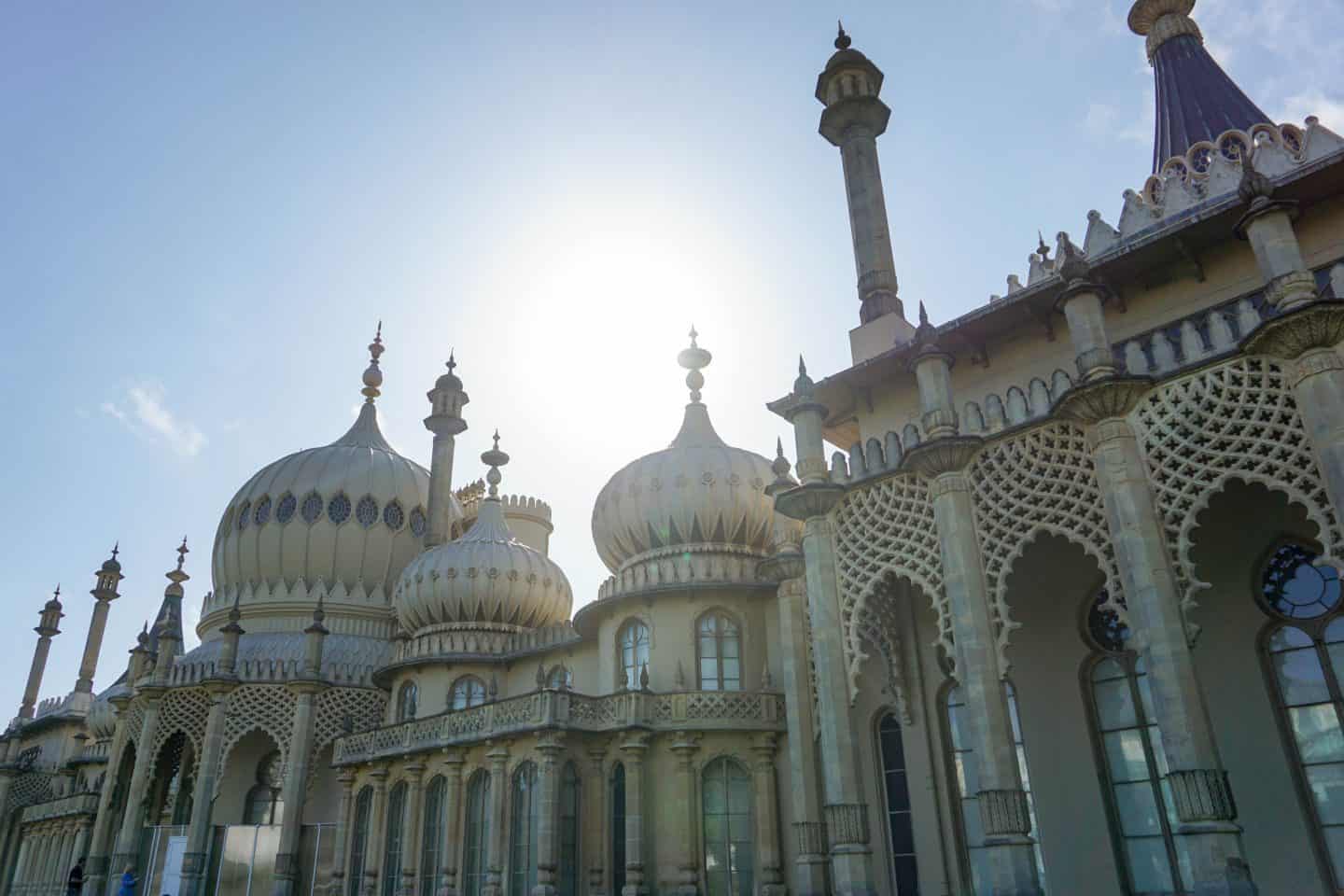 The Brighton Jurys Inn is a two minute walk from the train station, and it has a car park directly opposite too. It will take you about fifteen minutes to walk to the seafront from the hotel and was so quiet a night, so perfect for anyone who wants to sleep in in the morning as the city centre can get quite noisy quite early!